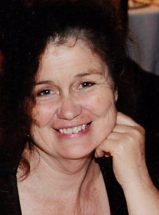 Catherine Walker has been offering a Mandala of Tara retreat at the Shambhala Center in Golden Bay, the far north of the South Island of Aotearoa, (New Zealand) for five years. This year the group met in November. Catherine writes …
Dear Prema,
You wished us a "Sublime and Precious Retreat", and that it was. In the extraordinarily beautiful and peaceful Shambhala, we gathered again this year and gently let go of the outside world and entered our Inner Tara realms.
The riches that were revealed to and through us were profound. From all of us down here in Aotearoa we THANK YOU Prema for this Precious Tara Practice.

Here are some reflections of our time together: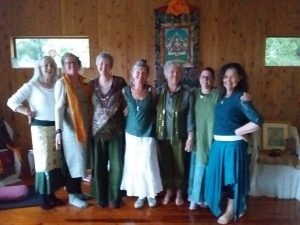 "I loved the sense of being held in a circle of Tara sisters – warm, kind, smiling, and of being held and sheltered by this beautiful landscape. Being in the circle and the landscape evoked a feeling of other worldliness, of gentleness and of integrity…a very precious memory to take away with me, and to sustain me into the future. A spacious and substantial Retreat." Wendy Pullan
"I'm so grateful for all the effort Catherine and Fiona generated to bring us an absolutely wonderful celebration of Tara. I'm also grateful for the amazing flow of energy in the Tara Circles with everyone very present and focused. We gelled well together under Catherine's skillful guidance.
I'm truly grateful for Shambhala and its exquisite beauty on so many levels. Thank you John! (owner/manager)" – Siena Ammon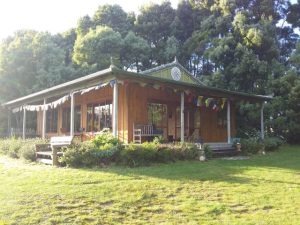 "I feel so lucky, so blessed, so fortunate to have been able to be part of this wonderful time here at Shambhala, with our wonderful teacher, Catherine and the beautiful Taras.There are so many aspects I feel so grateful for … Being in such a stunningly beautiful environment, both outside, bush, sea, sky, birds, mosaic paths, mandalas, exquisite Tea House, and inside the Meditation Hall.
The lovely shrine we all created, the flowers, the Aroha (Love)
Sharing delicious food, going to sleep and waking hearing the sea. Tara smiles, hugs and warmth.
The opening ritual at the Sea … Letting Go Letting In
Dancing! Learning Gold Tara. The challenges to learn the steps, co-ordinate, yet so supported by Prema and Catherine's teaching and by each of the Taras.
The music – the movement the space to honor – the space to be – to cry to be touched – to feel hope – to be encouraged on this path.
The teachings, meditations so relevant to issues, questions that I have been struggling with "what is happening to the planet" "my part in the "mess" and how to hold faith and act compassionately.
Hearing Prema's email about choosing not to hold their Kauai Retreat … about the trees being cut, the trade winds not arriving, it being too hot to dance, linked into the heartbreak and then we moved, we danced we listened we learnt we shared.
Today I was sitting with another Tara as 5 other Taras (including Catherine) danced White Tara of Six Shields while our tears flowed, such beauty, such heart, such healing.
The Medicine Buddha Dance radiating healing.
So many…questions raised "who do we see as our teachers, enlightened ones?" Challenging and yet such a gift to take up in my learning and deepening of my commitment to this practice.
A Tara teaching us Mala making
A Tara singing
A Tara laughing. We all dance together
Thank you so much for this Practice, for the teachings and this Retreat." Ali Symmons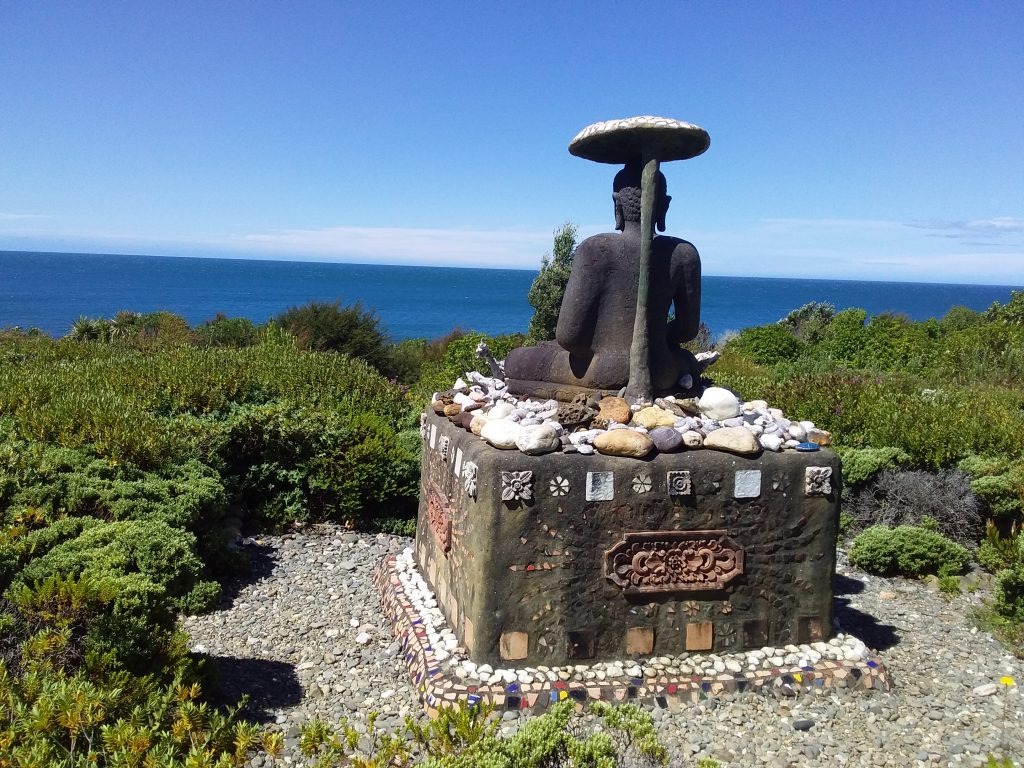 Tara Retreat 2019
Spacious nature
Inside and Out
Darshan of the manu/birds
Welcoming us to their home
Learning to honour Vasudhara
As waves and thunder and heat came and passed.
Dance as Ritual
Coming together
to learn and offer
plenty of time
to walk and chant
to the cows
to offer mantras
step by step
mala bead by mala bead
pradakshina around
the Buddha who
observes the ocean
while a Californian quail
brays from the umbrella
above his head.
Enlightenment
is something
we talked about
on Friday pm
What are we aiming for?
Who are we invoking?
Tucked up in bed
I read to the end of Prema's book
and learnt I can offer grace
for feeding the Goddess Tara.
Vasudhara
Abundant One
Connecting
Both Buddhist and Hindu practices
I dance with an absent friend
and sing to the cows
a devotee of your name." Liz Byrne