Phyllis Moses is a Level 3 Tara Dhatu teacher.  She has supported the Tara Dance since it's inception on Maui 32 years ago. Now residing in Oregon she has been offering Tara Dance introductions and classes in the area.  Recently she and Noelle Faulkner had a booth at the Portland Buddhist Festival and introduced Tara Dhatu dances. Her livelihood and volunteer work has been in the healing field, offering yoga, meditation, and more, for the past 26 years. She writes… 
Tara is dancing ~ at the Portland Buddhist Festival! It was one of those beautiful, sunny, perfectly mild temperature days in the Pacific Northwest . Springtime can be so enlivening when we shed our layers of coats and feel the sap in the trees and drink in the beauty of the rainbow hues of colors of all the blossoming flowers. About 17 different Buddhist groups gathered in Colonel Summers Park in SE Portland, OR. to share the richness and the diversity of the paths that have nurtured our Being.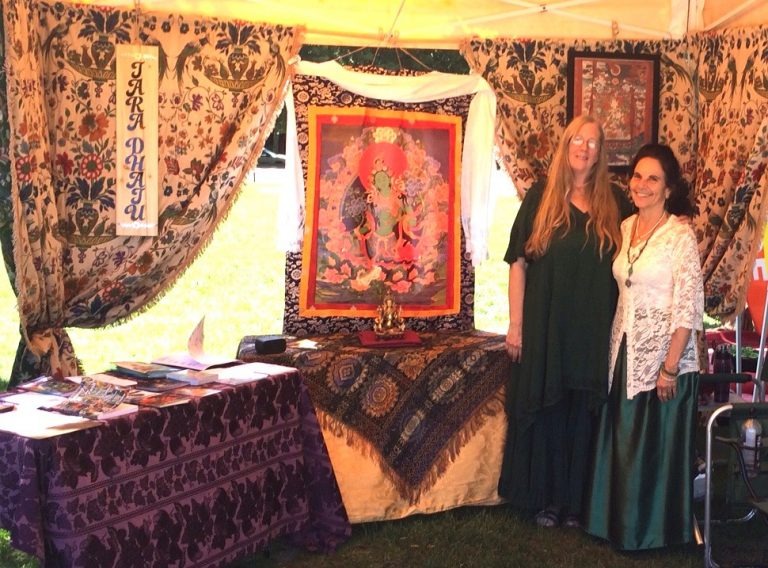 Noelle Faulkner and I had our Taradhatu booth, which felt like walking into Tara's Pure Realm. Noelle's creative touch had hand –painted the canopy and found the beautiful brocade Bedouin type curtains to grace the booth. Her last minute creativity came up with a beautiful Tara Dhatu plaque. It was an easy flow day with people coming in and out all day, even while the speakers had 30 minute spots in the nearby pavilion every half hour from 11 – 4pm.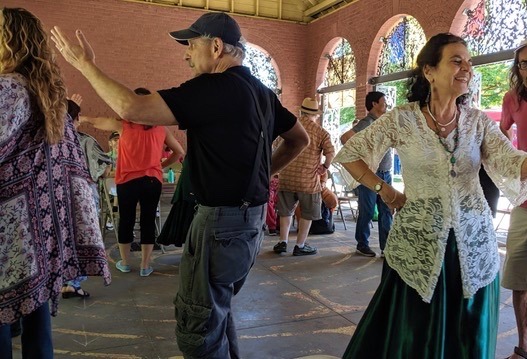 At 2 pm – right in the middle of the day, we presented in the brick pavilion built in 1921. The doors were made by laser-cut steel plate of trees motif, overlaid with flora and fauna patterning, creating a forest-themed composition. All the speakers beforehand gave presentations, speaking to the audience. When I came in it felt right to not say much, but to just get everyone up and in a circle to start out with the Motivation Prayer. That seemed to magnetize others so that by the time we finished with that, the circle had grown twice as large, just in time for Shantideva's prayer.
The main organizer also felt the shift in energy and said it was good to have some movement after all the speakers and people sitting earlier.
There were many booths including Pure Land, Thich Nat Hanh, Zen, Vajrayana, Vipassana, non-sectarian groups, and the Kids' Canopy which was busy with stories, crafts, play, and fun. Our dear friend Prajwal of Charya Nritya Dance had a booth and also spoke and did a short dance for the public. It was especially gratifying for me to share such a beautiful Spring day with so many people of like mind on the path of Awakening!
We had a steady stream of visitors and between Noelle and I, all had a chance to learn more about the realm of Tara. We gathered more names for the monthly email I send out and we were delighted to have a wonderful circle at our next gathering a couple weeks after the festival. For Noelle and myself, being relatively new to the area; it felt wonderful to be part of this rare celebration in a city that has such a wealth of dharma options.
Tara is on the move!
*******************************************************************************