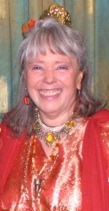 Amina has worked with disability most of her life. She has often represented the differently abled, advocating for their rights and place in society. Several years ago she became a Facilitator of the Mandala Dance of Tara and has led a small circle of disabled women in the dance practices.
Last year she applied to the 2019 World Parliament of Religions to present a paper she had written, "Tara as Divine Feminine Contradiction to Ableism(discrimination against people with disabilities characterizing them as inferior to the non-disabled) for Women with Disabilities" Her paper was accepted and she presented her workshop. Here is her report…
My workshop was scheduled for the very end of the Parliament, Tuesday Nov. 6 at 3pm. The Parliament's last session was the next day. It was good to be able to see how others skillfully led their various dance sessions since I only had 45 minutes.
My dear friend and Tara sister, Jenny Mish helped me to sort out what were the three most important things to get across in my session. 1. Ableism/disability oppression information, 2) information about Tara and how the practice was developed 3) a real experience invite the participants to dance the Qualities of Tara
Parvati had made up some Tara cards that we passed out to let people at the conference know about our sessions and I boldly went up to every woman with a visible disability (using scooter, wheelchair, walker or canes), introduced my self and invited them to my session. I also gave them the paper I had written because it explained what I was trying to convey.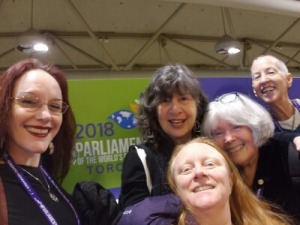 There were many other sessions running at the same time, though I was quite encouraged as I had 21 people in my session. Fortunately several were experienced Tara dancers, which boosted my confidence.
It was very helpful to be blessed with Shivadam's musical accompaniment since flexibility was needed. I first gave out information about how the negative ableist attitudes experienced by women with disabilities gets internalized and we can mistakenly believe that is who we are (a burden, unreliable, fakers, lazy, too emotional, dangerous, too much trouble, unattractive, better off dead, etc.).
Then I explained that after many years as a disability advocate, when I saw the 21 Praises of Tara Mandala offering I was struck how this was the best contradiction to sexism and ableism I had ever seen and I set out to learn the practice and then to make it available to women with disabilities and chronic illness who don't have the ability or stamina to dance the full Mandala.
After giving a little background on Tara and her many names in various cultures and Prema's story of how this practice came to be, I invited them to do the Prayer of Motivation with me. Then I led them through the refuge and bodhicitta practice and invited them to do the dance of Tara's Qualities with me. The participants were enthusiastic and beaming as they danced the qualities of Tara. I had the pleasure of seeing those beaming faces and watching Tara in action in my life once again!
********************************