Join Us For A New Full Moon Zoom Series! Episode Three Coming in March!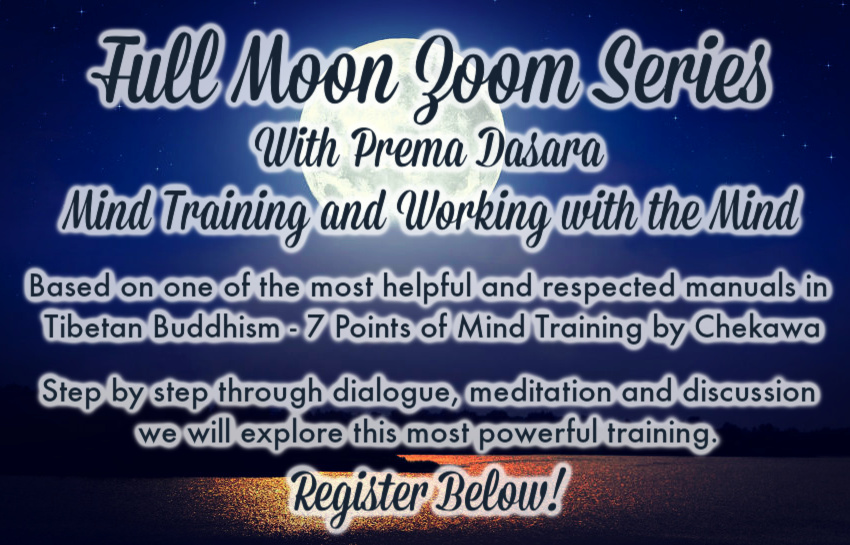 Mind Training and Working with the Mind.
Prema will begin a series based on One of the most helpful and respected manualsin Tibetan Buddhism – 7 Points of Mind Training by Chekawa
Step by step through dialogue, meditation and discussionwe will explore this most powerful training.
Zoom classes will be held on the Full Moon of each month. Attendance at the class will be free. The Meetings will be recorded. The recordings will be available through Vimeo for a minimal donation.

After registering, you will receive a confirmation emailcontaining information about joining the meeting.The Password for The Full Moon Zoom Series is: FULLMOON21
Double check your time change difference:
Click Here to use the Time Zone Converter to find out what time it will be in your part of the world when the Full Moon Zoom Series goes live.
Stream OR Download Episode 1 Here:
If you would like to make a donation towards The Full Moon Zoom Series with Prema, Thank You! Your financial contribution makes it all possible.
You Can Donate By Clicking Here
https://www.paypal.com/cgi-bin/webscr?cmd=_s-xclick&hosted_button_id=523H4Z6XZJ4BW&source=url
Please Specify On the 'Add A Note' Section afterthe payment screen that your donation is meant for theFull Moon Zoom Series.