Affirmation Prayer Flag Set
This stunning set of prayer flags is printed in Bali. Each flag has an affirmation that corresponds with a virtue written in both English and Tibetan. Each string has six vibrantly colored flags, handmade for with love.
Prayer flags are traditionally hung outdoors (on trees, homes or mountaintops) so that when the wind blows their energy and prayers are released into the universe. These flags  also look beautiful as an indoor decoration to set an intention. Each flag measures approximately 8 inches by 10 inches.
Description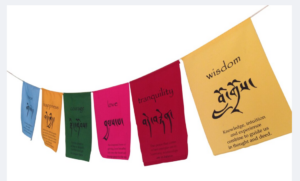 Affirmation Prayer Flag Desriptions:
Wisdom – Knowledge, intuition and experience combine to guide us in thought and deed.
Tranquility – The peace that comes when energies are in harmony and relationships are in balance.
Love – An inspired form of giving, love breathes life into the heart and brings peace to the soul.
Courage – Not the absence of fear or despair, but the strength to conquer them.
Happiness – When one's spiritual needs are met by an untroubled inner life. Happiness comes when our work and words are of benefit to yourself and others.
Peace – To bring peace to the Earth, strive to make your own life peaceful