Description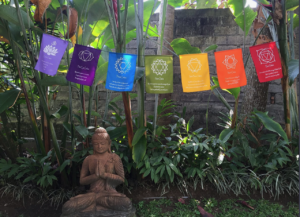 This string of flags is inspired by Tibetan Prayer flags in design, but is based on the seven chakras. These flags are hand printed and stitched by a Balinese family in Ubud, Bali. The edges are carefully surged so the flags will continue to help balance chakra energy for a long time. Flags can be hung inside or outdoors. Each flag has a chakra symbol and corresponding mantra related to the specific chakra of the flag. The flags help to promote love, balance, happiness and peace. Our body has seven main chakra or energy wheels. The energy or Prana from these chakras flows throughout our body to keep us vibrant, healthy and alive. The red or base/root chakra helps one feel secure and that one has a right to exist. The orange or sacral chakra can help one with being social and feelings, especially intimacy. The yellow or the solar plexus chakra helps one maintain balance in ego and confidence. The green or heart chakra helps one accept love (of others and oneself). The blue or throat chakra helps with relationships and can help one learn to express oneself and trust. The indigo or third eye chakra helps one realize their full potential and tap into their intuition. The violet or crown chakra helps one develop one's spirituality and trust in the universe. These flags measure 6×8 inches.
Base Chakra
I am connected with the energy of Mother Earth.
My body mind and spirit are grounded, centered and purifiedSacral
Chakra
I love all dimensions of myself.
I delight in weaving the creative tapestry that is my life.Solar Plexus
ChakraMy will and divine will are one. I am connected to the
abundant flow of the universe and easily manifest my dreamsHeart
ChakraMy heart is open to receive the energy of love. I radiate this
essence. I walk my path with ease and graceThroat ChakraI am
aligned with my highest truth and communicate this
with love and honor. My words echo softly within the universe.Third
eye Chakra
My mind is open to new vision.
I expand my awareness through my higher self.Crown ChakraI am
connected to the divine source of the universe. I am light.
I trust.