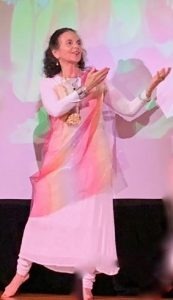 Phyllis Moses is a Level 3 Tara Dhatu teacher. She has supported the Tara Dance since it's inception on Maui 32 years ago. Now residing in Oregon she has been offering Tara Dance introductions and classes in the area. Recently she was invited to teach and offer some of our Tara Dhatu dances at the KCC Center in Portland. She writes…
Tara has a way of winding her magic where it's needed! A friend suggested I teach a small group to offer something for the Kagyu Changchub Center in Portland, OR. They were having their annual – "Blooming Lotus Vajriety Show & Fundraiser".
I was delighted to be able to share some of our dances with women who have been a part of KCC for nearly 25 years. This year the title of the show was "Turning the Wheel". It was an evening of deep devotion, good belly laughs, and serious fundraising.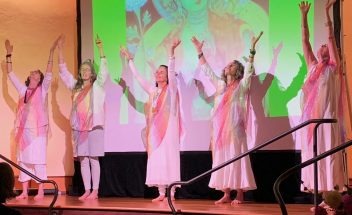 The children from the center did an opening procession singing 'Om Mani Padme Hung' and then we Tara Dhatu Dharma Dancers came on. We could feel Tara's blessings pouring through us. We were especially inspired by the beautiful on screen backdrop.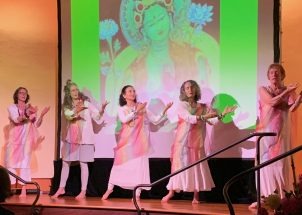 We offered the Prayer of Motivation and Shantideva's Prayer of Refuge and Bodhicitta. Everyone loved it! Afterwards some people said they felt it was the most potent experience of the evening for them.
There were many creative offerings like The Sit Up' (sung to tune of The Git Up); juggling; The Ballad of Lama Michael (who started the center and is now stepping aside to welcome the next resident Lama, Lama Eric); Samsara Blues (sung to "downtown Blues" – you get the picture of what kind of night this was!
The funniest part was when Lama Eric acted in a short skit called "Dharma Analysis". Crawford played a therapist who in the end wound up in the patient's chair!
A couple of weeks after the offering I continued to hear from dharma friends that our offering was really well received and helped set a sacred tone. As KCC adjusts to their new teacher and life settles in again after the transition, I hope to offer more dancing there. The center was founded in honor of Bokar Rinpoche, one of Prema's main meditation teachers, who loved the dance.
Dancers left to right: Linda Grove, Cynthia Irvine, Phyllis Moses, Celedra Gildea, Carolyn Peck