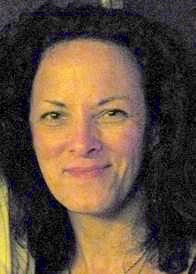 Nita-Rose has been leading a Tara Dance circle in Cincinnati for some years. Considering the pandemic she has not lead any meetings for months. This October she decided to see if she could manage a White Tara Healing meditation in the labyrinth at the back of her house.
She and her husband Larry paced the labyrinth outer circle discovering it could accommodate 18 people with social distancing between them of 6 feet.
She writes…
We had 12 people join us, with Larry and I we were 14. We arranged chairs (not practical to sit on the ground with all the pebbles and rocks) at 8ft distance and 10 feet from the center where I stood.
Everyone loved it considering the feedback in emails I've been getting. I felt it was awkward and clumsy with the masks muffling the mantra and the sounds of one of my neighbors blowing leaves with a loud leaf blower. I had to adjust the movements to keep in mind social distancing, a true discipline in focus. My habit to do what is in my muscle memory kept tripping me up. I felt awkward and clumsy.
Regardless, everyone loved it. Having the community gather in person felt so powerful, a gift that brought home the visceral experience of what is meant by the community of practitioners being part of the 3 jewels, "a rare and precious jewel" these days. This event reminded us of how challenged we felt being isolated and unable to gather in community.
Hearing the laughter and feeling the connection, seeing the interactions of everyone coming together to be in the light of Tara was a delight. The evening was a success that overcame any feelings of clumsiness and awkwardness.
I had thought to do another meeting on November 1st but after talking with Prema I decided to cancel. We have had an uptick in the COVID numbers in our area. My daughter is a nurse. She sent me a warning text that the hospital she works in went from 7 cases to 24 cases with a few on ventilators just in the last couple of days. I don't want to be irresponsible.
Prema has invited me to do a Zoom gathering online instead and I really want to do this. Now more than ever we need the healing grace of Mother White Tara.