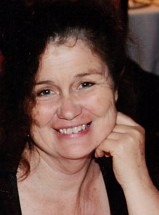 Catherine Callaghan is one of our most active Student Teachers in New Zealand. She is based in Nelson, in the South Island. She recently led a workshop at the beautiful Chandrakirti Meditation Centre. Her students describe the event…
This has been an enlightening weekend for me, not only learning some sacred dances of Tara but also the history behind them and the centre. It was a wonderful weekend spent with some beautiful ladies and Catherine, our very inspiring Tara Dance Teacher.
Chandrakirti is wonderful. The Nalanda hall has the most amazing collection of Tara statues.

I am not a practicing Buddhist, but my life values align with Buddhism. These sacred dances are very beautiful and graceful. Such a nice way to incorporate Tara's teachings into my life, to absorb them through the heart and soul. I felt a sense of empowerment and connectedness with myself and the goddess within.
I feel very blessed and grateful for this opportunity to experience this tradition. I know this is just the beginning of my Tara Journey. You don't need to be able to dance or be a Buddhist, just be open to a new, wonderful and amazing experience. Thanks Catherine and my fellow Taras. Love you all.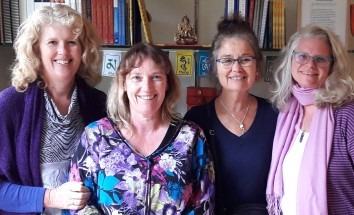 On Discovering Tara
by Fiona Mackay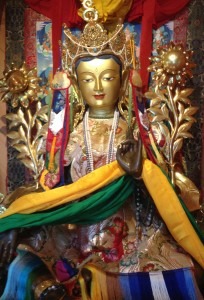 Traveling to new places,
New faces, new path?
New fear? . . . no . . . same,
Arriving, alone again.
Beautiful garden,
Welcoming space,
Smiling faces greet me,
New friends, all decided.
Gompa Tara. . .
WOW!!!
Colours greet me now,
And serenity.
Words and welcome done,
The dance begins.
Tentatively I enter the space,
And learn to greet fellow Taras.
Sacred safe space.
Body I have,
Becomes body I am.
The goddess I feel,
And the goddess I become.
Turning, turning, reaching, evoking,
Movements learned . . . movements embodied.
Familiar and new,
Sinking out of the mind,
And into the expression.
Beautiful new words and concepts,
Imagine . . . Fierce Compassion,
And . . . Transforming Poisons.
Powerful feminine,
Felt and enjoyed.
Laughter! Joy! Abandon!
The fear dissolving,
Into passionate embrace,
Of femininity, resolve, and refuge.
Swift Protection and Invincible Courage,
Fells like a solid warmth in the belly,
Where the fear once lived.
Such strength in the movements,
Wrapped in intent and released.
Sister Taras undulating,
Swaying, stepping, turning . . .
Rhythmic voices join to honour,
The sacred presence of Tara in all.
Time dissolving into the now,
Of the breath . . . the beat,
The circling dancers,
Connecting to each other, the sacred space . . . the trees, birds, and universe . . .
. . . . And Tara.