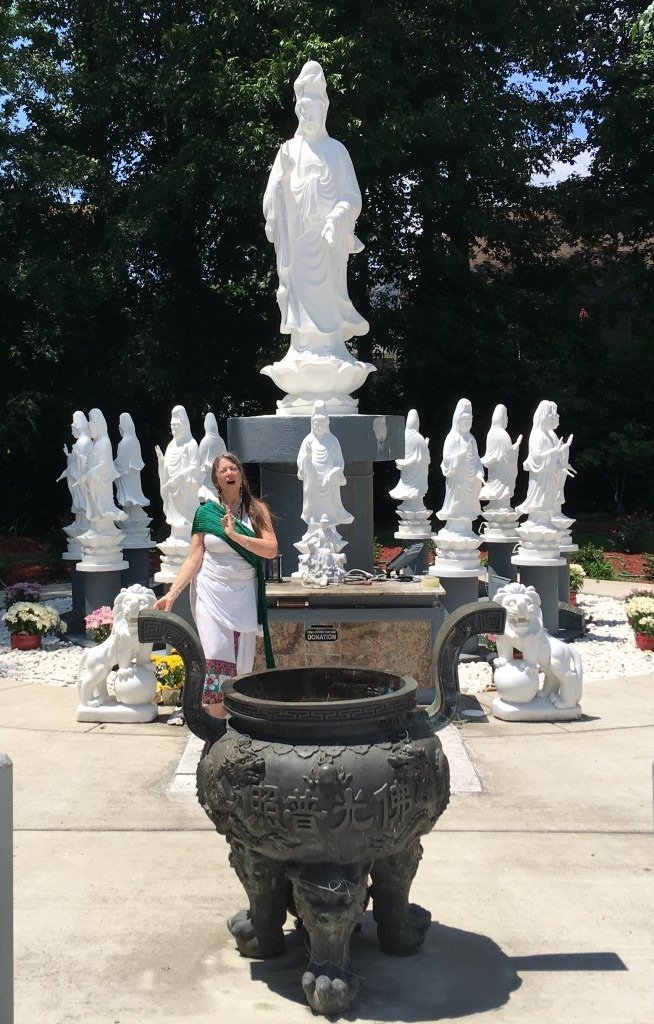 Jacquelyn Sonam Lhamo and her husband Rigdzin are ardent dharma practitioners. Jacquelyn is a Level 2 Tara Dance teacher. She has shared the dance several years in Virginia and returned to lead a series of Tara Dancing experiences July 2016. This is her story….
The Great Compassion Festival
This year I was invited to present some of our Tara and Dharma dances at the Great Compassion Festival in Virginia Beach, VA. This yearly event, dedicated to those who have passed, is presented by the Vietnamese Buddhist community.
The crowd was already up and dancing to New Age drumming music when Curtis, a fan of Tara dance from past years, said "Here come the Tara dancers."
I said "My name is Jacquelyn and I am Tara. You are also Tara. Tonight we will all be Tara dancers. " As I was setting up, Rigdzin presented some dharma visuals on liberation through seeing, including the flag the former Karmapa had seen in a dream.
Rigdzin became my mouth piece, speaking the lyrics as I introduced the movements.  Although I was suffering from jet lag, Goddess Tara's energy poured through me, giving me the power and energy to continue the presentation in Her honor.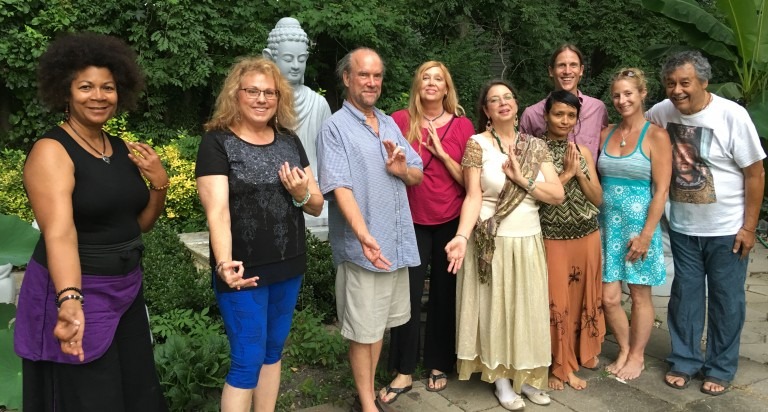 After doing the preliminary practices and prayers of motivation, refuge, and bodhicitta, I shared Prema's recent email about healing the planet's elements with Tara's mantra and we danced the mantra dance.
Dancing Tara at the Vietnamese Buddhist Temple
Concerned folks, many from various backgrounds, shared a retreat day of meditation, Tara dance, silent silence and dharma dialogue at the temple.
The Temple was really attractive, filled with beauty, energy, various depictions of the Enlightened ones and a happy English speaking monk from Vietnam, Smilie.  Many expressed concern about trying to integrate the teachings to be part of the solution to our world problems.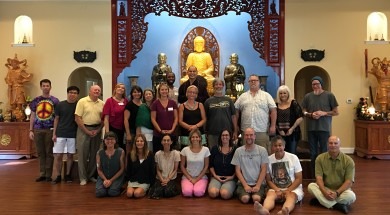 In dancing Tara folks had an opportunity to embody the energy of an enlightened being. Our Tara prayers grounded us, uniting body, heart, and mind. It was a joyful experience of sangha.
Smilie emphasized the importance of non duality through personal practice to find peace within and, in our own way, help the world. Detachment from our emotional blocks helps us to center in our Divine state of being! As we become more aligned with Enlightened energy and approach the world situation from the view of not seeing positive or negative, it changes us. Our collective efforts can energetically make major shifts.
Dancing Tara at the Inner Light Church
The final phase of our Tara dance July tour reminded me of my first meeting held years ago, that one can do the Tara presentation without equipment or props! With the vast selection of Tara and Dharma dances to choose from the three hours flew by!