Kim Abbey is a relatively new Tara Dance facilitator but a long time Tara Dancer. It is wonderful to see her spread her wings and share the dances. She has a circle of Tara Dancing in her Olympia, Washington community and we are always delighted to have her join us in the dance. She writes….
My experience at the 6th Annual Women in Buddhism Conference in Seattle at the Seattle Betsuin (Pure Land) Temple was so joyful. I was invited by the planner, Irene Goto, to facilitate a Tara Circle at this one day conference.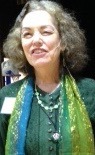 We had half an hour to share, immediately after the bento box lunch that was provided for all 65 in attendance.
I quickly organized a table shrine with fruit and flowers and the precious thangka that was one of the 21 that were hung all around us at the festival in Brazil!
Then we danced in a big circle in the gym at the Temple. Several women spoke to me about their joyful feelings, raising their arms and swaying to the prayers was a very new experience for these mostly elderly Japanese women.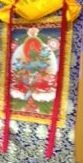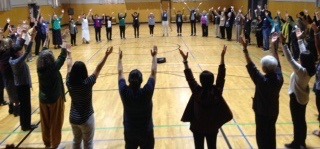 Om Tare!