Introducing Anahata Iradah
When Anahata Iradah picked up her first musical instrument at the age of seven,  she was sure that she had entered the angelic realms. She has been transporting people there ever since, through her ministry of music and dance.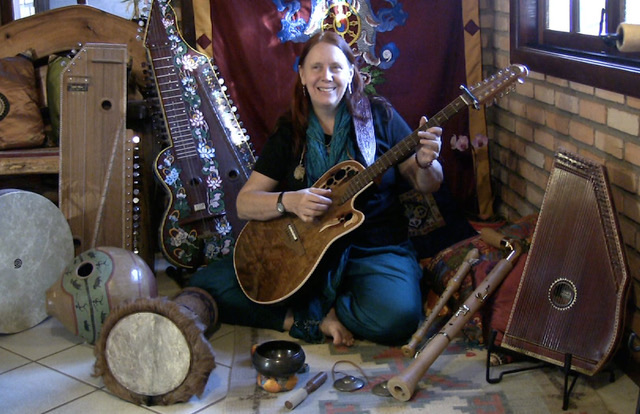 Born and raised in England, she received advanced diplomas from the London College of Music before heading for the United States. There she was introduced to the Dances of Universal Peace, a tradition that celebrates the unity of religious ideals through simple circle dances, using the sacred words of the world's great religious traditions.
Since 1990 she has made great contributions to this tradition. As a musician, she has arranged, recorded, notated and composed many of the treasured songs that accompany the Dances. As a teacher she is known for her depth. Having absorbed the background of the Dances, she leads her circles into the profound atmosphere of each culture. As a core member of the Mentor Teacher's Guild, she has developed comprehensive curriculum to assist her "mentees" in developing their own dance- leading skills.
Ever seeking to broaden her personal experience, she graduated from the Healing Light Center Church in Glendale, California where she studied to be a natural healer. She received her Certificate of Ministry from this church.
Working closely for many years with Shinzen Young, a respected Buddhist scholar and meditation instructor, she has incorporated the profound teachings of Buddhism into her work.
Inspired by the brilliance of the Sufi path, she studied to become a Semazen in the Mevlevi tradition, the whirling dervishes, guided by Jelaluddin Loras and other teachers in the Seattle circle. She continued this tradition in Atlanta under the excellent directorship of Bruce and Karen Miller.
She studied to be a film composer at UCLA which became excellent preparation for her work in producing a series of video documentaries about the Dances of Universal Peace and the Mandala Dance of the 21 Praises of Tara.
Becoming interested in citizen diplomacy through music and dance, she co-led a group of pilgrims to the Middle East in 1993 . The delegation met with refugees, spiritual and political leaders and offered the Dances wherever they went.
She co-led with Prema two pilgrimages to offer the Tara Dance to Tibetan Refugees in India and Nepal. They also co-led a group to South India. Anahata has since continued to lead pilgrimage to India, Nepal and Brazil.
Anahata and Prema traveled and taught together for 11 years. She wrote many wonderful melodies and created fabulous dances during this time. She continues to work tirelessly in the service of sacred music, meditation and dance.
Anahata teaches with gentleness and open-heartedness. Her music and the poetry of her understanding lead her students into the breadth and depth of the human heart.
Right now Anahata is a captive of Australia! She was on tour there at the beginning of Covid 19 when the borders closed around her. She is now making her way in the Adelaide Hills, singing, dancing and embracing life Down Under.