Jessica Zebrine Gray connected to the dances of Tara in 1997 by
reconnecting with a member of her family.  She explains, "All my life
I knew my mother's sister was beautiful and exotic, a dancer in India
and Hawaii, and completely out of reach. We had a photo of her in the
hallway, and occasionally we got small cards or notes, but mostly she
was a myth. Even her name, Prema Dasara, was unusual and mysterious. I
felt a longing for a spiritual connection with someone from my family,
from my roots, so I sent a heartfelt plea to a stranger's e-mail, and
through cyberspace I formed one of the deepest connections in my
life."
The Tara Dance became a central part of Zebrine's spiritual practice.
She made a commitment to the student/teacher program and is now a
third-level teacher of the Dance. While in her masters' program at
Florida State, she wrote her masters' thesis about the development of
the Dance and its intercultural implications. Zebrine journeyed on the
pilgrimage led by Prema and Anahata to India and Nepal in 2001, to
Brasil for retreat in 2004 and the Monlam in 2018. In 2002, she
was offered a position on the Tara Dhatu council, on which she
continues to serve.
Artist, educator, writer, creator…she completed her PhD in theatre at
Louisiana State University, writing about modern myth and identity. She
then chose to leave academia to form her own educational
organization, The Imaginorium, where she creates and directs. She teaches
online in costume and in character as Iris Imaginoria – theatre,
writing, and special effects makeup classes. She offers one 8-week
interactive class for children based on Tara Tames the Eight Fears.
She is most excited about her current project – a novel set in a place call The Rainbow Path. It is based on her character and others who learn many of the lessons she herself learned through the teachings of Tara. While she weaves the story through magic and myth, the characters are
bodhisattvas, teaching equanimity, compassion, non-attachment, and
more, each bringing others to a form of enlightenment.
As an artist, Jessica Zebrine completed a decade-long project of
creating the artwork and printing the Tara Wisdom Cards, a tarot-based
78 card deck based on the 22 Taras and dharma teachings and co-wrote a
book about the cards with Prema. Both are available on her website.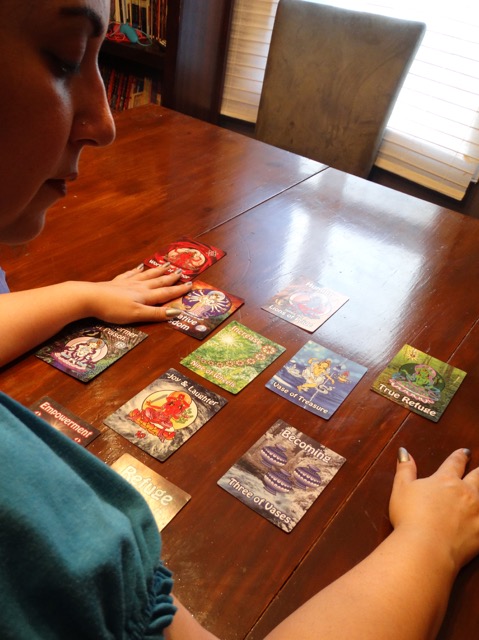 Jessica Zebrine lives in Rhode Island and would love to connect with
other Tara dancers in the Northeast. She can lead the Mandala or a
variety of other dances, including ones she created. She deeply
values her ongoing work with Tara Dhatu.