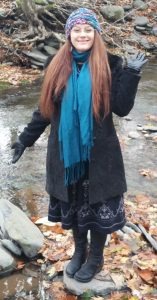 Parvati Forrest Anee Burke is one of our most senior teachers. Her dedication has led her to be our Central Coordinator, holding together the reins of our international Tara Dhatu. This Fall she offered three weekend mandalas of the Mandala Dance of Tara. She writes….
Thank you Prema and Mother Tara for the amazing and beautiful, powerful and empowering teachings and sangha.  Recently a new friend asked me why I am drawn to this work and the answer is clear… I see so much transformation of poisons in my own life and the life of others. In a thirteen-hour weekend retreat I have seen those with a chronic tone of discomfort in their being relax into an open hearted presence. I have seen precious and nourishing connections made countless times.
Each weekend is unique with its gifts and challenges and Tara always shows up!  In a world with so much confusion and suffering, this precious practice brings so much goodness and it is my joy and honor to serve Tara and the world by sharing the Mandala Dance of the 21 Praises of Tara again and again.  May these offerings bring much joy, inspiration, and benefit and may the merit support the aspirations of our teachers, in particular, the May23-27,2018 Peace and Prayer Monlam Festival in Brasilia, Brazil.
Dancing Tara in Seattle for Dagmola
The annual October offering held at the Sakya Monastery in Seattle was rich and beautiful with regular participants mixed with some who had not danced a Mandala in years, and others who were totally new to this form of Tara practice. We had thirteen plus me in the Mandala, a valiant protector, and a couple Tara elves supporting us.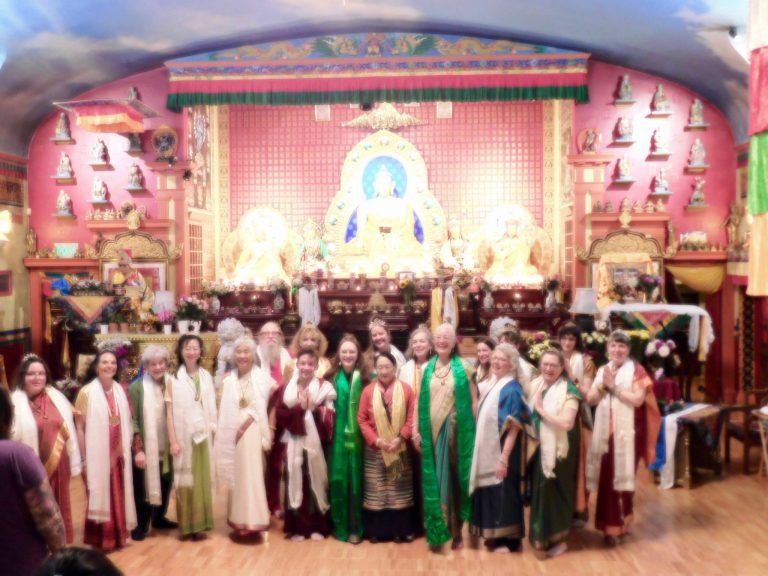 Dagmola glowed with joy. She explained to the audience that what they had witnessed was not just a performance but a precious offering. They were able to witness the emanations of Tara, dancing for them through the retreat participants. She lingered to visit with the dancers.
The next morning Gail Fredrickson took me to have a little visit with Dagmola in her home. Gail is Dagmola's close student making the arrangements every year for the Mandala Dance to happen at Sakya in fulfillment of Dagmola's aspiration.
Dagmola shared some of her recent journey to Tibet. She gave a blessing to the Monlam, happy that we are engaging in such a powerful practice.
Dancing Tara in Phoenix
The annual Phoenix retreat in November was luscious and glorious with a number of traveling Taras joining us from Tucson, NY, TX, and a couple from the bay area in addition to our local community.  We chose not to have a public offering in order to allow for a retreat that could go deep into the Mandala, meditations, and supporting practices. It also created a very intimate space where all were able to bring in their deepest concerns of heart and mind. The result was really special.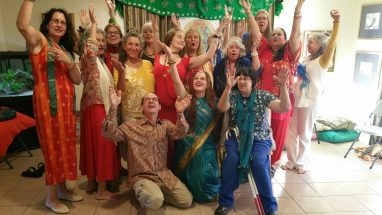 We had the gift of Shivadam's ever skillful and patient, beautiful musical support.  Participants were able to connect deeply with one another and carry the personal concerns weighing on hearts and minds into the final offering. It was powerful and empowering weekend and offering.
Dancing Tara in Woodstock New York
The Woodstock Mandala was a triumph, resonant with the quality of Tara, The All Victorious, in sync with Hope, our valiant organizer's, praise attunement.  For Hope, the thirteen hour weekend workshop format was a new experience and she bravely agreed to take on the additional layer of complexity by bringing Shivadam to do the music live.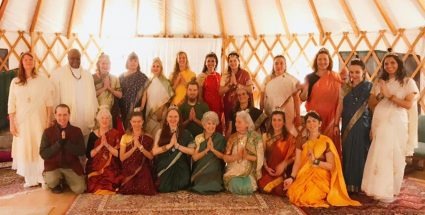 The payoff was big with a gorgeous Mandala offering!  Shivadam served us skillfully and tirelessly throughout the weekend. He was joined by two more talented musicians for the offering, Avainash on drums and Lee Marabai with opening kirtan, vocals, shruti box and bells.  The group was a lovely mix of totally new Taras and those who has danced again and again through the years. We had 18 in the Mandala and I was so touched by the presence of each and every dancer… each one bringing a lifetime of experiences with them into the offering.  We were supported by a wonderfully brave protector who was totally new to dancing Tara but popped in and out of the Mandala in practices as we needed him and held the protector post skillfully for the offering.
The Woodstock area experienced a 40-50 degree drop in temperature just as we dove into the weekend and our Yurt meeting spot had snow on the ground outside.  The propane gas heater was intense with noise and fumes and we went from sweltering heat to freezing cold. What a wild adventure. The wise community of Taras harvested these challenging circumstances and began to reflect on these extremes as reflections of the conditions on this planet at this time as well as the many realms unseen by us in this human life.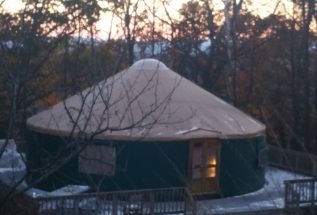 As the leader of the Mandala and workshop, I invoked the Tara of Creative Wisdom to understand how best to work with the challenges as they arose. The key, as Prema and I have often discussed, is to just not panic. Do the practice and hold space through which the possibilities present themselves. And I was gifted with a group of dancers that were all valiant and resilient! Eh Ma Ho.
The audience of Karma Triyana Dharmachakra Monastery (KTD) and kirtan community members was so loving and welcoming. We had an exalted offering ending with some Dances of Universal Peace led skillfully by Shivadam.
At the same time as our retreat was beginning there was the culmination of a retreat to the1000 Armed Chenrezig Nyugne practice at the KTD monastary across the street. We felt that we were dancing in sync with that powerful practice of wisdom, compassion, and inspiration throughout our time there.  As a delightful and perfect surprise, just as we finished our offering a Sri Lankan man from the monastery community appeared exclaiming, "Om Tare" and inviting us all to a freshly cooked, hot dinner at the monastery. A perfect ending to complete our offering and beautiful way to send out dancers back out into the world… with hearts, minds, and belly's full and deeply nourished!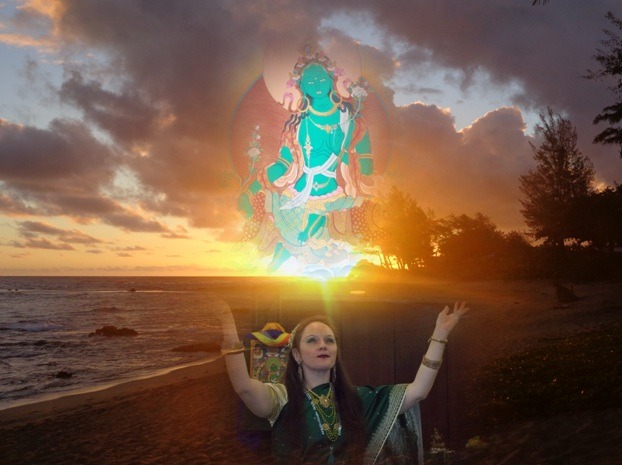 Om Ah Hung!
May we continue to turn the wheels of Tara's love and light.
May the rays of Mother Tara's blessings spread far and wide.
May all beings be nourished, blessed by the One Who Blazes With Glory!
*******************************