Dance in the Mandala of Tara
In Woodstock, NY
Fri Intro Evening open to all at KTD Monastary
With the weekend workshop and offering across from the KTD Monastery
November 10 to 12
Parvati Leading
Live music with Shivadam.
Public offering Sunday
November 12 at 4:30 pm.
Public Offering Free with requested offering
Spots still available for the full weekend workshop and scholarships available.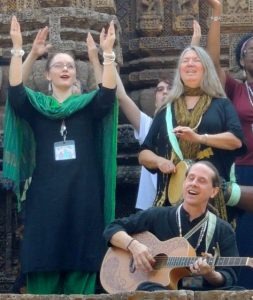 The KTD monastery just finished consecrating eight stupas across from our workshop space.
May all beings benefit from our sincere prayers.
 For more information contact Hope
Hope Jinishian is a Tara Dhatu Student Teacher who has for the past several years supported Tara Dhatu in many ways.  We have been encouraging her to start a circle of dancing Taras in her area (Woodstock, NY) and this September 30th she did!! The Karma Triyana Dharmachakra Monastery is the North American seat of His Holiness the Karmapa and has always offered a warm welcome to the Tara Dance. Lama Lodro was offering a weekend of stories of White and Green Tara and she invited Hope to share the dances after her Friday night introduction.    Hope writes…..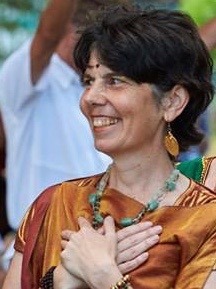 I'm happy to share that my offering at the opening evening of the Green and White Tara stories retreat with Lama Lodro at KTD Monastery on September 30th was a success. I had the full attention of a group of 30 practitioners at the start of their retreat and Lama Lodro invited everyone to receive the Tara dance teachings and instructions as a practice and meditation. She fully participated herself.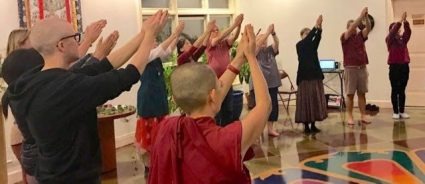 I taught Prayer of Motivation, Refuge and Bodhicitta and the Dance of the 21 Qualities and took time to break down the different components of the Qualities dance. Everyone stayed fully engaged, danced well and sang the mantra and all the prayers full out.
I received a lot of positive feedback. I felt that these past couple of years of study and practice with Tara Dhatu events and at KTD paid off in a strong synthesis of a vibrant, centered, meaningful experience with the group.
Several of the retreatants were from Hartford and said they were available to participate in a monthly circle there. And we have a few who would like to join the mandala dance retreat weekend in November.
Seems it was a rich experience as several people sought me out over the weekend to share.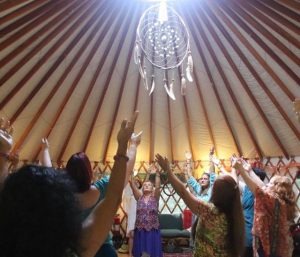 Here's a nice snippet of an email from a woman who wrote to me after the group..
I just wanted to tell you again, how much I enjoyed the Tara Dance/Movement Practice last evening. I've never participated in this type of practice and found myself becoming captivated by the movements, rhythm and repetition of the music and lyrics. I appreciate you taking the time and having the interest in sharing this with everyone.