September 10th the Maui Tara Dancers had the good fortune to present a sacred dance offering to the respected and beloved dharma teacher, Anam Thubten.  Eighteen dancers of all ages and experience offered the Tara Dhatu preliminary practices.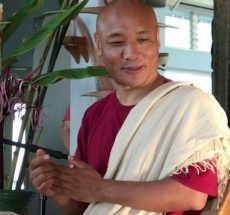 Anam gave his loving attention and the simple offering was ecstatic.
The Sacred Earth Temple is a beautiful room, blessed by countless offerings of sacred music and dance.
Behind Anam, an enormous crystal amplified his peaceful, joyful presence.
Several months ago Anam had written a powerful poem to Tara and wanted to share it with the dancers. He then taught a melody of Her mantra that was precious to him.
We rearranged our group, half of the dancers experienced enough to dance the new, powerful practice, "Calling Tara From the Heart" in a crescent moon configuration, the other half sat to the side, offering the mudras like a powerful background chorus.
We were all transported. Anam was visibly moved by the offering. He told us that he has seen many sacred dances but truly felt our hearts, our compassion and devotion. He could see that it wasn't about the ego or about what great dancers we were (although he said we were all beautiful dancers) but it is about the practice, dedication and heart.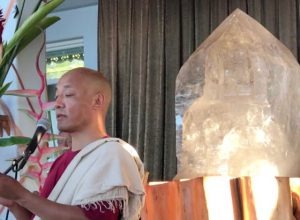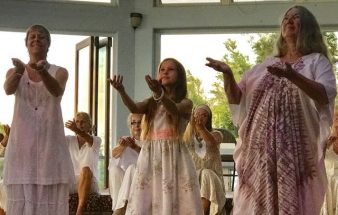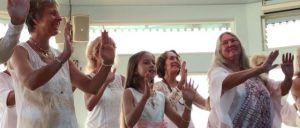 He said that the dance put him into an altered state. He recognized that we were working with sadhana, a form of spiritual training. He declared our dance offering "liberation on seeing and liberation on hearing".
He loved the variety of dancers, from 13 year old Camry to several women in their 70's. He laughed and said we were all wonder women! Indeed that is what we felt like, certainly we were women in wonder of it all.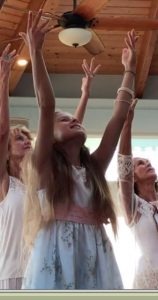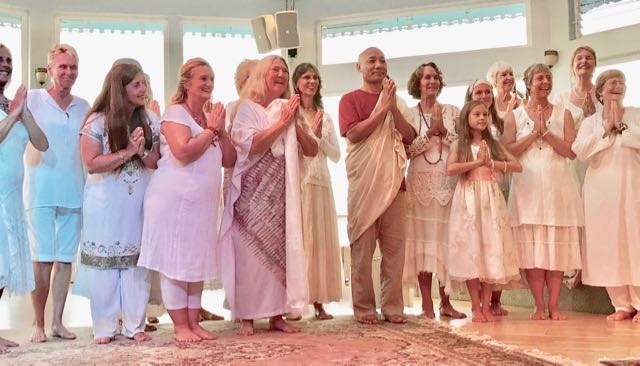 Om Tare!!!