Sherry Harris from Kauai, Hawaii traveled to Brasilia, Brazil to participate in the Festival of Peace, Festival of Prayer, Tara Dance Monlam. She shared a bit about Monday's Post-Monlam Tour….
May 28th, 2018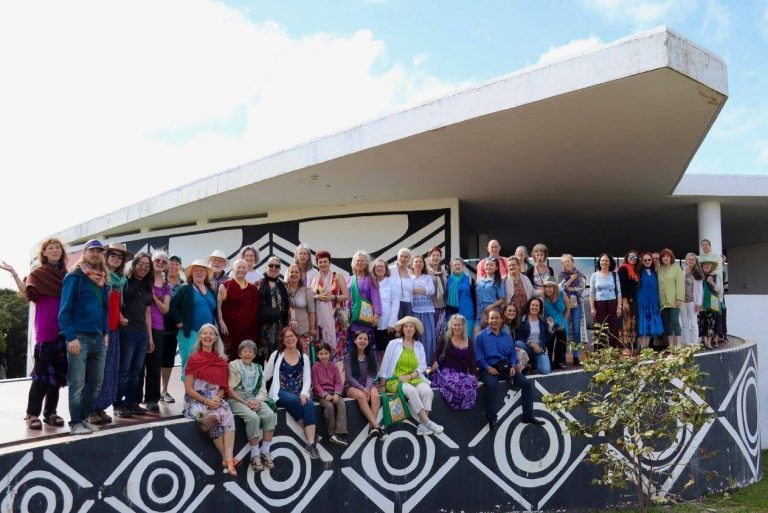 After nine full days of attention and effort to the structure of the Monlam, dancing in ever-changing forms, we entered our first day of post-Monlam activities. Myri and Prema had arranged a luxury bus to introduce us to a bit of Brasilia. Fifty dancers, mostly from out of the country joined the fun, exploring this Capital City. Brasilia was built in 1960 on a utopian, all-inclusive vision, all the buildings uniquely designed.
Our 1st stop was the Museu dos Povos Indigenas – The Museum of the Indigenous People of Brazil. The Museum was usually closed on Mondays, but Myri arranged for our Tara Dhatu circle to be specially welcomed. The plan was for some of the tribals to open our visit with singing and dancing but the trucker strike and consequent gas issues meant that they could not make it. Fortunately one of the managers was able to hostess our group.
Beautiful Maya translated our day. The building spiraled downwards to end in an earthen circle, open to the sky.  Along the way were implements of Indios lives … clay pottery, woven basketry, carved wooden benches in shapes of birds used for daily meditation upon returning to one's home. A long woven tube caught my eye. The women of the tribe use it to squeeze out the juice of the manioc root,  many hands, twist and turning.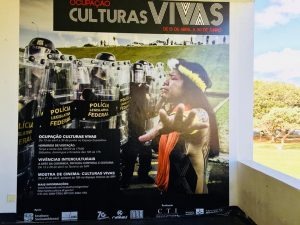 There were large photographs of the Indios in demonstrations with the government and the police, in rallies of opposition to their treatment. They need to be seen, to be heard, to be recognized … to have a place among the people of Brazil … standing up and standing strong and proud. They want their culture to be respected.
A few of our Taras were invited to don headpieces with reverence, unity, intention, respect. We had been asked by the director to offer prayers for the well being of the tribal people.
We gathered in a large circle in the open courtyard, including a big tree stump representing the inclusion of the tribes before us. Lekshe, and Prajwal joined us as Prema led us in song and dance – Tara's Refuge, Motivation, Shantideva and the dance of Tara's Mantra Meditations.
Shivadam held the melody with his guitar and Isa kept the beat of the drum. My bare feet in the sand in which so many have danced and chanted in ceremony, I felt completely connected, in solidarity with all people for equality, empowerment and freedom.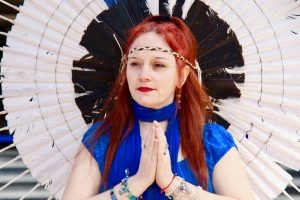 Many felt a deep sadness here. Mixed emotions were apparent, acknowledgement pervasive. It was a powerful time of prayer.
We then piled onto our luxury bus and Maya pointed out the city plan, laid out in the shape of an airplane looking to take to the sky. Her stories were clear and she also shared the story of the "unspoken division" of a class system that "didn't yet go away".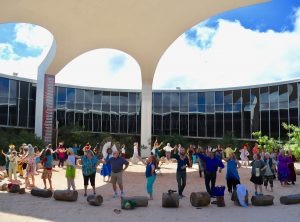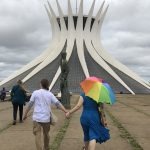 Our next stop was the Cathedral, with 16 arched columns. It was a long staircase down into the sanctuary with wavering stained glass walls and huge hovering angels hanging from the ceiling in the center. Breathtaking.
Our group found a cozy circular underground room used for christenings, and were happy to dance a modified version of our new dedication piece, May All Beings. The room had amazing acoustics. Such a blessing.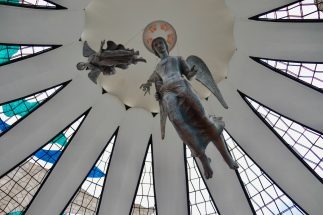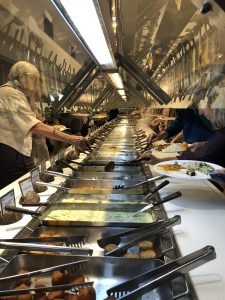 Lunch at Restaurant Mangai, was lavish. We were surrounded by herb gardens and reflecting pools with a stunning view of a bridge of arches over the lake. Maya tells us she swims across the lake, shared with many fish, small not-biting crocodiles, and capivaras, a little hippopotamus-like animal!
With a vast array of Brazilian foods before us, we learn about Kilo eating. You weigh your plate full of food after selecting from the buffet. It would take a dozen visits to taste it all! The restaurant was full of fun accents of Brazilian country life. A sculpted server had little cups of that wonderfully smooth Brazilian coffee as a good bye treat, free for us to enjoy.
Our last visit was to Templo da Boa Vontade, the Temple of Good Will. This vision of wonder represents raising the temple of the Living Divinity inside our human heart.
The pyramid-shaped structure of seven points has the purest, large crystal at its apex. We are thus magnetized to enter and walk, in silence, the spiral floor of the first temple room.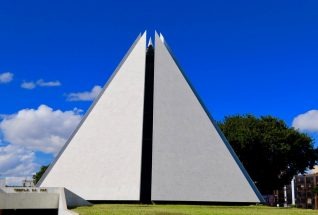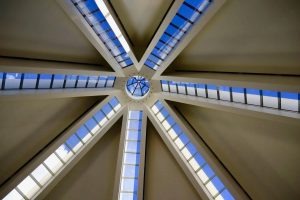 We entered on the dark spiral, walking counterclockwise, contemplating the difficulties in our journey.  Standing in the center under the crystal, we find the Light and begin our new journey.    Walking in meditation, praying, we return on the spiral of light, illuminated by spirit.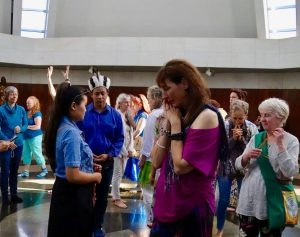 This meditation was brilliant for our group, as we have danced Tara's Praises together, transforming poisons, destroying our attachments, removing our sorrows, and truly feeling worthy of honor.  We have been deeply touched and changed in a joyous and profound way.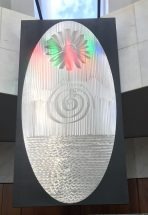 Sharing our bliss and joy is unstoppable!  We are walking Tara's teachings in real time.  We drank from the fountain of blessed waters. We bowed at the altar of the four elements. And then on to the art gallery we went, passing paintings of the Tarot using aspects of Brasilia to illustrate the Major Arcana.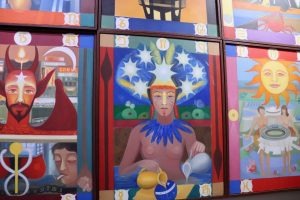 We had been invited to offer prayers in the gallery and so two circles formed quickly. We danced Motivation, Shantideva and Tara the White, in English and Portuguese.  It is so alive, this heartfelt unity as we looked at each other with Tara's eyes, seeing her face in each one of us.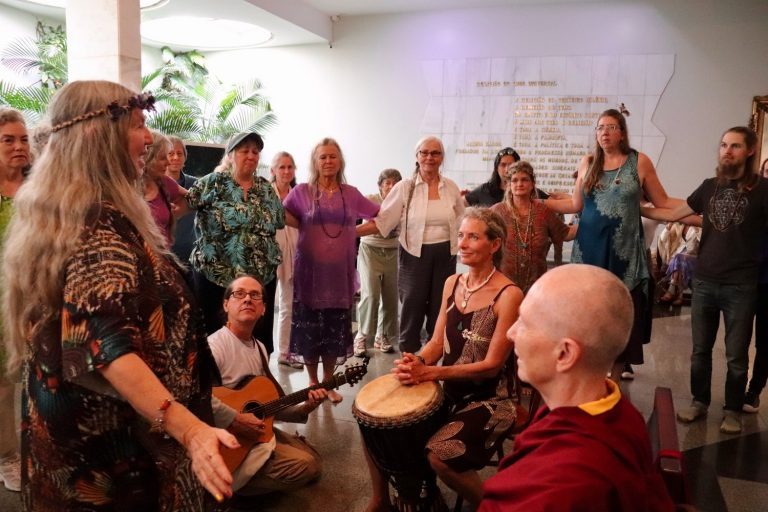 We laughed.  We cried. All of us united in this collective release of built-up energy from the hard work, the chaos and the joy, living Tara's truths revealed.  We dance for each other, knowing we contain the power of prayer and transformation, the energy to make a difference where there is suffering.  This Monlam, this gathering of Tara's and Prema's dream has empowered us and set us free!  Love really is the answer.