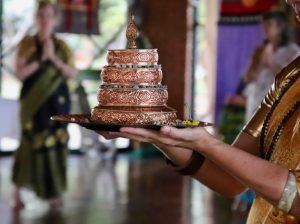 Glad you are with us today!
Prajwal continued teaching his morning class, which was deeply appreciated.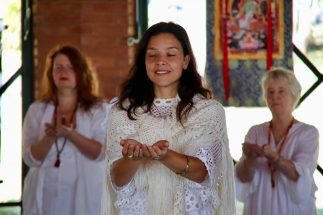 Dressed in white, we opened the morning with our preliminary practices—Beloved Tara, Refuge and Bodhicitta, and Shantideva. We then invoked Mother Tara, took refuge in her and danced Dukkar, to create a protective umbrella around our temple. Calling Tara from the Heart, we remembered that everything arises in the mind, and we deepened our sense of interconnectedness.
After a break, we changed into our gold skirts and cholis and draped beautiful scarves in preparation for dancing the Eight Precious Offerings. We engaged in the extensive seven purifications and offered the traditional ringed mandala, every stone representing a universe.
The Dakinis once again poured their wisdom nectar into the top of our heads. Prema gave us a teaching about the power of offerings and their role in our development. Why do we offer? To generate the refined energy called merit.
There are three main gifts inherent in this merit: our mind becomes more stable and clear, so we see the interconnectedness of all beings. As a result, we become more naturally generous. Secondly, it allows us to appreciate what we already have—the richness of our lives. When we feel into that space, once again, generosity can more easily arise. Thirdly, the practice of generosity and the merit it creates energizes us for our work in the world— we are empowered to carry out our enlightened activities.
Is there anywhere you feel stuck? Anything you would like to accomplish but don't have the energy to realize? Experiment with the practice of generosity as described in yesterday's post to generate the circumstances most auspicious for your activity.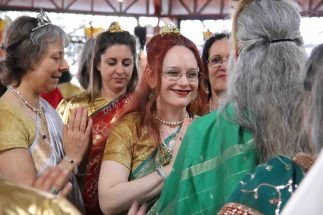 After lunch we worked on the mandalas of the 21 Praises, walking through the positions, then dancing them to stabilize our orientation. We danced in a beautiful configuration of three mandalas. The sensation of dancing in a Mandala that was turning, next to two other turning mandalas, was extremely powerful! I danced gold Auspicious Beauty and felt connected to the earth and the gifts bestowed by the inexhaustible and fertile abundance of Enlightened mind.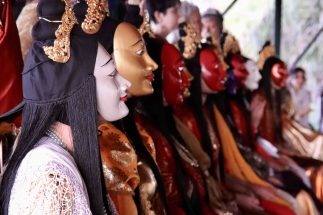 At 4:00 PM, the offering goddesses danced, then the masked dancers followed by the three mandalas offering the 21 Praises to Tara. Prema has set practice goals for the Monlam, so every day we strive to accomplish them. I was talking to another Tara and we were marveling how wonderful it is to be able to accomplish practice in this delightful and nourishing way. We were sharing how the beauty of the sacred dances and chants were helping us to become more naturally disciplined.
It reminded me of the attraction aspect of our visualization: Tara is adorned with silks to attract others to her. In the same way, Prema has created practices that delight the senses, so that practice becomes a form of divine enjoyment. Of course there are days or periods of resistance for most of us, but I feel much of that is counteracted by the sacred sensory enjoyment of the music and movement.
In the evening, we were graced with Myri and Vesta dancing a new, Eight Auspicious Symbols Dance. As with the Five Wisdom Dakinis, there was a feeling of being in a pure land and receiving teachings from the Enlightened Ones. I can't wait to learn it! Prema told us about the meaning of the symbols, which you can read about here, and explained the Jungian idea that they have manifested from the collective unconscious over time in different cultures as carriers of universal significance.
The three mandalas then danced again, and it was my first experience watching, instead of dancing in, a Mandala Offering. One after another, radiant Taras were born and displayed their qualities. It was deeply moving to see the sangha sisters I am getting to know transform completely into their divine manifestations. Abha, Carolina and so many others who I have observed as soft spoken and gentle emerged blazing and majestic as Noble Tara in her various forms. So powerful–Om Tare!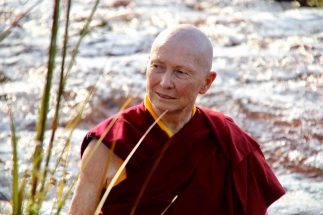 To conclude the evening, Gen Lekshe Tsomo gave us a teaching about merit, building on what Prema had offered in the morning. She emphasized the importance of dedicating the merit we have generated during the day so it is not dispersed, and generating refuge and bodhicitta before we go to sleep. Her advice was to try to sleep mindfully, and to investigate dream yoga if we feel we would like to deepen this.
In the morning, the recommendation was to dedicate the merit we generated while sleeping and start the day with refuge and bodhicitta once again. In this way we engage with presence in all aspects of our experience. We also discussed the meditative power of our dance lineage. Concluding the evening with chanting Om Mani Peme Hum on a melody that came to Gen Lekshe at the waterfall on the retreat center grounds, we welcomed a night of rest after such a full, rich day together.
I subsequently learned from Gen Lekshe Tsomo that the term "Ani," which I have heard used over the years in referring to nuns, is in fact a condescending form of address which can be translated as "auntie." I thought I would share this as many of us belong to Tibetan Buddhist sanghas. The better way of addressing a teacher such as Gen Lekshe is with the word "Gen" (which means teacher) or Venerable. She has devoted her life to improving the condition of Buddhist nuns, particularly in Asia, who were traditionally treated as inferior to their male counterparts. Let's support her work of empowerment by not perpetuating through our words the unjust hierarchy which is now obsolete. Om Tare!
How are you today, tonight? What prayer to Tara is in your heart? With sincerity, ask for what you need, what you are aspiring to for yourself, your loved ones and for the world. Recite the Tara mantra and dedicate your practice to the peace, healing and joy of all sentient beings!
OM TARE TUTTARE TURE SOHA
May all beings be happy!
May all beings be free!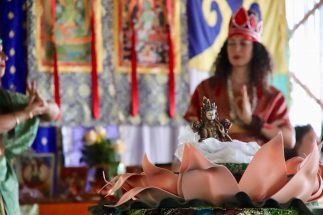 Text by Anjali, Photos by Amber Roniger