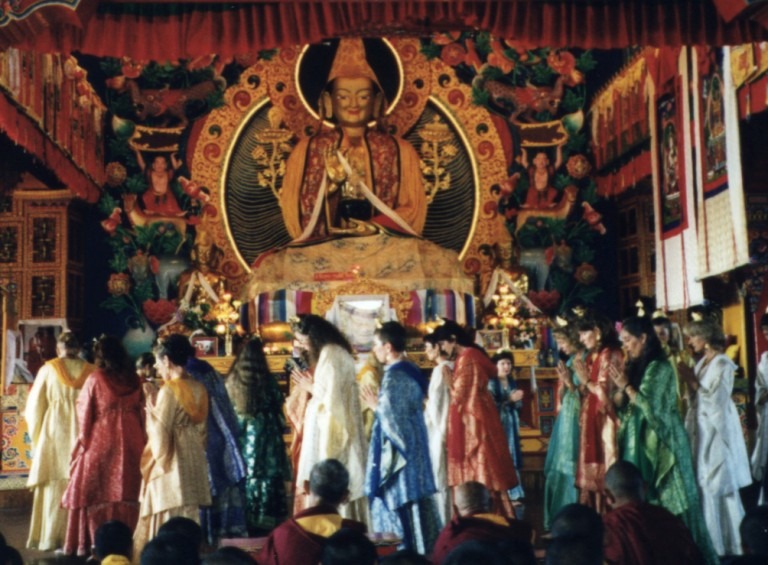 In 1998 fifty Tara Dancers from 11 countries of origin traveled to India and Nepal to dance the Mandala of the 21 Praises of Tara for the Tibetan Refugees. One of the stops was the sacred land of Sarnath, where Shakyamuni Buddha gave his first teaching after his enlightenment experience in Bodhgaya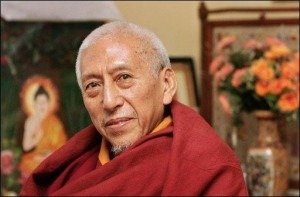 The group offered the dance at the Central Institute of Higher Tibetan Studies. They were invited by the Director, Samdhong Rinpoche, who several years later became the first President of the Tibetan People in exile. His addressed to the audience and performers after the dance was recently transcribed  from the video "The Quiet Revolution".
I don't know how to address you. Shall I address you all the 21 Taras? My Deity? Or shall I address you the wonderful artists? The performers?
I am indeed very happy to be able to witness this excellent performance of Tara dance. And I think this is the blessing of Tara Deity.
A very new initiative; for my knowledge it is for the first time I have heard and have witnessed a dance of 21 Taras.
It is therefore you all deserve my sincere congratulations, appreciation. And I believe that it would benefit all sentient beings, to receive blessings, to receive prayers, through this manifestation.
I appreciate each one of you for performing excellently.
The composition of this performance is of international stature. Almost each part of the continents of the world are represented in this group. That is really very important. This signifies the unity and integrity of humanity all over the globe. And signifies that this dance performance can dispel the divisions, conflicts and hatred among mankind, and humanity all over the globe can live with loving kindness and compassion, together, to benefit to entire sentient beings.
I once again thank you all on behalf of my student community, my colleagues and my own self for this wonderful performance. And I dedicate the merits, which we all earned and created together in this evening for the devotion to Tara for attainment of Buddhahood to all sentient beings. All may live in peace. Thank you.