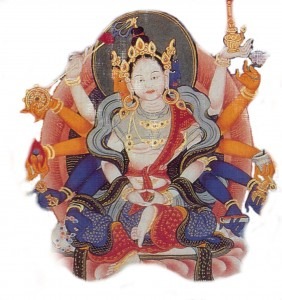 Phyllis Moses writes:
One tried and true method of bring these practices deeper within so that we can always feel the joy and freedom of our True Nature dancing in our life is accumulating mantra. We simply repeat the mantra and count (generally on a mala of 108 beads, and there are also 'counters' that can be put on the mala so we can keep track up to 1 million). We do this to enliven our own inherent joy and capabilities. The definition of mantra is – that which protects the mind, that which protects your own mind from negativity (anyone else ever hear the voice of the self critic? ; ) Mantra is the essence of sound (hence each syllable is called a seed syllable), and when we repeat the whole mantra it's like watering seeds that can then ripen and sprout.
What are we ripening? Our own essence, which is none other than Tara! We can start with this suggested visualization as a way to 'get a feel' for the love and devotion in our hearts, and to have a focus of one of the qualities Tara exemplifies.
Let's focus on Tara # 2 – Creative Wisdom (Loter Yangchenma). She is known as Melodious Liberator, Source of Wisdom, the essence of creativity. She is white and shining brilliantly like the light of a thousand full autumn moons, and thousands of shimmering stars. She inspires us to meet life with creativity. One aspect of this creative mind is the power to see every circumstance, no matter how difficult, as an act of empowerment. We can ask our creative mind, "How can I meet this circumstance with wisdom and compassion?" – rather than becoming discouraged or despondent. Ultimately, the shimmering of stars represents the shimmering of love, compassion, wisdom, courage, and commitment radiating beneficial qualities to all beings. These are the qualities that our noble teachers reflect to us, they are more than poetic vision, they are possibilities inherent within each of us.
We can cultivate these qualities by visualizing Tara, she is white symbolizing her activity of pacifying. In the center of the blue lotus flower she is holding by her left ear we visualize a mirror (in Tibetan, melong – symbolizing emptiness and pure consciousness) in which all wisdom is completely reflected. See the white light from the center of the mirror radiating in every direction. Begin to recite Tara's mantra (Om Tare Tutare Ture Soha), seeing the white light from Tara's heart and from the mirror, emanating in ten directions. The light dispels all ignorance, gathers all the knowledge and wisdom that can benefit sentient beings, and returns back to the mirror. Then again from the mirror, light and wisdom radiate, filling every part of our bodies, and we feel that inner glow of compassion, wisdom, and love – feeling this healing for all beings. Then dissolve the visualization, sit in meditation for as long as possible, and then dedicate the merit.
Notice for yourself how it feels when you do 1 mala round, 2 malas….or half a day. The Tibetans say that doing 1 million mantras helps us to actualize the deity. Stay sincere with yourself, maybe some days might be 3 mantra repetitions – it's all good! Notice how the contemplation helps inform your life circumstances, if we even remember to bring in this tool during a rough patch (and no judgement if we don't remember). These are tools to help us come closer to actualizing our own Light. Which we know the world surely needs of each of us.
May all beings be well and happy.
May all beings know peace and joy.
May all beings be free from suffering and the causes of suffering.
Om Tare Tuttare Ture Soha
Om Tare Tuttare Ture Soha
Om Tare Tuttare Ture Soha
Om Tare Tuttare Ture Soha
Om Tare Tuttare Ture Soha
Om Tare Tuttare Ture Soha
Om Tare Tuttare Ture Soha
Om Tare Tuttare Ture Soha
Om Tare Tuttare Ture Soha
Om Tare Tuttare Ture Soha
Om Tare Tuttare Ture Soha