We have been playing some fun Q&A with FaceBook friends.
See some of the answers below… Join the fun on FaceBook, click here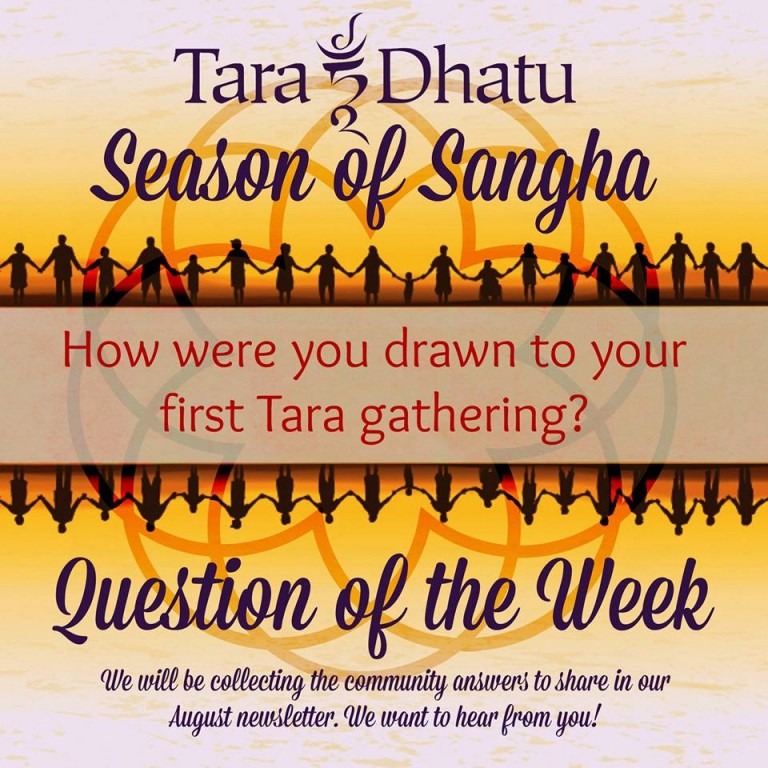 Hope Jinishian: I met Tara in Bali and it was love at first sight. Tara Dhatu practices and the Buddha Goddess Tara have propelled me all over the world this past year deepening, healing, guiding, consoling and inspiring, Culminating in the recent sharing of the Motivation Prayer, Refuge and Bodhicitta, Shantideva Prayer, White Tara of the Six Shields, Calling Tara from the Heart and Om Ah Hum dances at His Holiness 17th Karmapa's Monastery in Woodstock, NY with Prema Dasara and MyriTara Naves, landing me a job here within a few days. Om Ah Hum! Speechless and joyful, happy and turned around. Grateful and…Om Tare! Love, Hope
Jasmine Ginter: I was looking for a retreat and a friend suggested Tara retreat on Kauai. It was (and still is) a compelling mix of spiritual, movement, and healing female goddess energy in a beautiful location. And I dove in!
Lydia San Riv: I was leaving in chile, just before I started my Doula certification, and two pregnant women were there… Was so magical. I continue dancing in Chile until I moves to Barcelona, and now it's very difficult to find a group where I can dance.
Kylie Slavik: awesome! it was literally RIGHT down the street from my house and it was sort of mixed with DUP which I was into – so i just walked on down the street and totally fell in love
Adrienne Wyman: Bonnie Grey Meyer, Karen Metta Fleischer, Marie Elena Gaspari, Denise Weatherwax and I started dancing together. Hillside Church, El Cerritos CA.
Phyllis Danu: I had been reading a book about women and Buddhism. In this book the author mentioned Tara and quoted her mantra. So I started using her mantra, with a little tune that I made up I guess – don't recall it now. I asked Tara to bring more of her practice into my life. Very shortly after this my dear friend told me she was going to a weekend retreat at The Abode of the Message called The Mandala Dance of the 21 Praises of Tara. I told her I would go with her. That was in spring 2002.
Catherine Walker: About 7years ago i saw a little black n white flyer advertising an introduction to Tara Dancing at Chandrakiriti Meditation Centrei.I went and after that was offered the leadership of the group, and my life hasn't been the same since either!
Teresa Newberry: I was in a belly dance class and someone described the dance offering that was to given for HH the Dalai Lama and I knew I had to see it. I went and watching the dance stirred something deeply in my being and I determined that I would dance the Mandala. The next year when Prema returned to Tucson, I experienced the Mandala dancing as Auspicious Beauty and that was the beginning of a deep and beautiful path!
Sherry Harris: Taking a drumming class by African drummers Isa Marie was sponsoring, I spotted a postcard flyer, 'Feet on the Earth' for dancing Tara in Koke'e on Kaua'i. I called the # and spoke with Eana. Learning about Tara and the divine dance of her qualities over the weekend, I found myself wrapped in a Sari and part of a public offering that sweetened my soul and moved me so deeply. Been dancing in her footsteps ever since!
Parvati Forrest Anee Burke: My mom was dancing and called me up Sat and said she was doing the most amazing thing (she could not explain it) and said I had to throw my best friend in the car and come see the offering. I was in love immediately, even though I had no idea what I had just experienced. My life was never the same again!