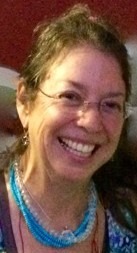 Jacquelyn Sendak Zavaleta has been sharing the Tara Dances in Virginia for several years,accompanied by her
Tara Protector husband, Rigdzin Zavaleta.
She writes…
Rigdzin and I had two welcome dinners organized by our friends and hosts Tara White and her husband Mike.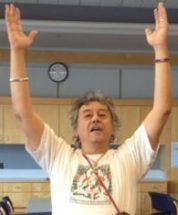 Due to two knee injuries, it was a total stretch for me to lead the dance practices in Virginia Beach and Portsmouth. However, attendees were so open, receptive, and caring that we managed just fine.
I began by sharing my temporary limitation, and some experiences about how these Tara practices have changed my life.  As soon as I did this, everyone became very attentive and focused. Rigdzin led a Green Tara meditation. And then we danced. One gentleman who said he did not dance eventually joined us during the dances of the praises.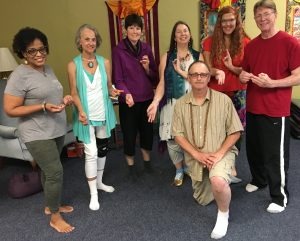 Eventually, my knees hurt too much to lead movements anymore. After the program, one lady kindly went home to pick up a surprise a gift of Chinese medicine to rub in my knees that Martial artist use for injuries. She showed a vivid interest in the dances and after doing the Tara qualities she said she felt a resonance to embody them all. We were invited next year to expand our Tara program to include her Dharma Center.
It is always wonderful to come to a Dharma Center and share the Dharma and Tara dances with Buddhist Practitioners. It is especially inspiring when a person is just discovering the Goddess Tara. The richness and depth of the movements, combined with Mantras, meditation, and dharma teachings creates an excitement and interest. Long term Buddhist Practitioners share how Tara and Dharma dances inspire them. Although we have been coming to Virginia Beach and Portsmouth area for many years, this time we encountered both new and experienced folks to our programs.
One of my Tara sisters donated some Tara materials that she encouraged me to give away as gifts which I did.   This opened the door for me to introduce the Tara food blessing, basic teachings, and a Bardo prayer.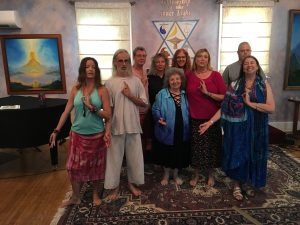 The Savvic Center in Portsmouth, Va serves the local Buddhist community and attendees welcomed us expressing "this is a great way to spend a Sunday."
Our initial Tara Dance teaching in Virginia Beach was at the Association for Research and Enlightenment (Edgar Cayce). We were then invited to dance at the Fellowship of the Inner Light Church, the joyful Church with the big heart.
This year, we were very fortunate the fellowship's founder's wife, Sharon, was in attendance! She finally was able to experience what we have been doing here for the past few years. Attendees were reluctant to leave so we were given permission to take as much time as we wanted to continue the program. She really enjoyed our presentation so much that her parting comment was "so we will see you again next year?" I heartily agreed. Our Tara Groups will continue to meet and dance in Virginia.