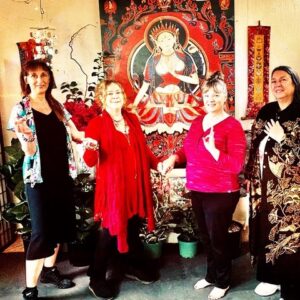 Pia Hagan, one of Tara Dhatu's Senior Teachers, organized a small mandala at Shell Dance, the Pacifica home, art studio and orchid business of Nancy Victoria. Pia writes:
We were a small group as the world here in the Bay Area "opens".
On Tuesdays I have been doing one on one "Sound Sessions" to help friends reduce stress. Since my instruments were all set up, I offered to do a mini /1/2 hour session for the dancers.
I am so grateful for this work that goes along with my devotion to Tara Dance, as reciting and accumulation of mantra has brought me through many times of transition.
Time disappears when I do the sessions, as time disappears many times when we dance. Thanks to Mercury retrograde, I had some difficulties with my Wi Fi, Bluetooth . That old trickster, when I said "unplugged" I did not mean for Tara Dance!
Karen and Joi brought snacks, a very much-missed tradition during the year. What a nice surprise of healthy and fun food to ground us. Eat before dance? I know it sounds crazy but we all had a long day before we met it was perfect! Plus it gave me time to trouble shoot the issue with sound.
Once all were fully relaxed and nourished we began to dance. We invoked our sources of Refuge and danced the Mandala in Crescent Moon formation with ease and grace.
This was another "full on meditation" as with long-term dancers, we are present but can go deep into the practice and trust Tara will give us the praises we need at that moment. There is something amazing about dancing 3 or 4 praises and seeing that each Tara we dance is exactly the ones we need at the time, a random message from the 21 Taras.
We held hands for the first time in a year and a half!!! The support of each other was so needed at the time our reconnection.
I have been so grateful for the sessions on zoom, the worldwide connection has literally saved my life the last 6 months! So much gratitude for the Phoenix Circle, Parvati and Carey, Myri Dakini and all the wonders of the online world where we can dance with someone in New York, Canada, Brazil, Australia, Hawaii, Oregon, Chile and every now and then a Russian Tara appears all at the same time, time out of time.
It felt really, really good to be together, checking in and supporting each other and dancing the 21 Praises of Tara!!! There is no comparison to dancing together at the living and lush Orchid gardens with the beautiful White Tara that Nancy Victoria Davis painted.
I am so grateful for the dedication of all to the practice and being a part of the "living lineage of Tara Dhatu". Prema continues to be such an important connection as a Teacher, Friend and Guide.
Om Tare Tu Tare Tu Re Soha and so it is…May all be free!!!
Pia Hagan 6/13/2021
On the foggy coast of Northern California