Floods, Hurricanes and Fires Oh My!!!
Pia Hagan is a Level 3 Tara Dhatu Teacher in the Bay Area of California. Many of you remember Pia as one of our most excellent Master Chefs at our Annual Camp in Kauai. Pia organized and offered a Mandala at Terra's Temple in Berkeley September 2nd & 3rd. She writes….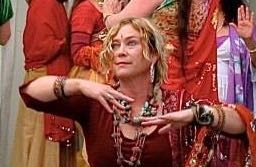 Such a crazy time in the world, I have to admit when I booked Terra's Temple way back in May, I had no idea how many ladies would commit and it was a test of my faith as I prepared for the weekend. This was not an easy one to pull off but I know the power of this Prayer and knew that dancing the Mandala would help to stabilize us!
With the flooding in Texas and hurricanes in full force in Puerto Rico we 19 dancers focused our prayers to pacifying Mother Earth. Because of the timings of Terra's Temple we had to set up Saturday morning, skipping the usual Friday evening orientation. We set up quickly, engaged in the preliminary practices. And the temperature kept rising. It was 95 degrees by noon. We were sweltering.! We placed everyone into their praise and took a break.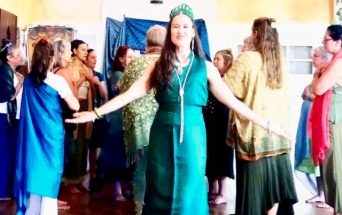 We were so lucky to have Jade, a professional dancer and a long time Tara Dancer give us instruction on dancing a praise. She had a way of making everyone comfortable and shared some key observations. We all enjoyed the confidence she shared with her beautiful and sometimes funny movements.
Then we had Jade, Karen Metta and Deborah Ursula dance Ferocious Compassion to show
the individuality of each dancer. It was quite a treat to see the diversity in the heart of these three experienced Tara Dancers!
A few days before the event Parvati had driven in from Arizona! She supported me in keeping things on track. It was a trial by fire as the Temple literally continued to heat up. I was reminded, there is a moment in the Mandala we call "cooking our beans" as emotion intensifies. Self confidence is tested. It is the provocative nature of this work with Mother Tara.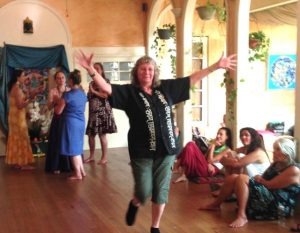 The group was wilting despite the fan Ridgzon brought us and the ice Barbara distributed. Many of us wondered why we were there!
We stopped early and as I drove home to Pacifica I went over what was important and chanted Tara's Mantra across the bridge.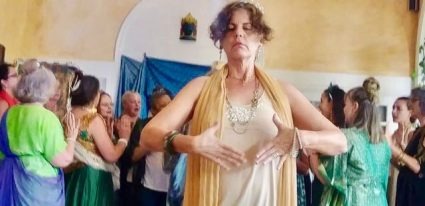 Fortunately Sunday it had cooled down. We began the morning with each dancer offering her personal prayer for the world. We were moved by the heartfelt intentions of each Tara and from this place we danced all the way through the Mandala!
It was amazing to see the seven women who had never danced the Mandala go deep into the practice!
We offered the Mandala in the afternoon. It was so beautiful. Our intentions were clear. I felt Tara's loving support and rejoiced as we all witnessed each woman transform!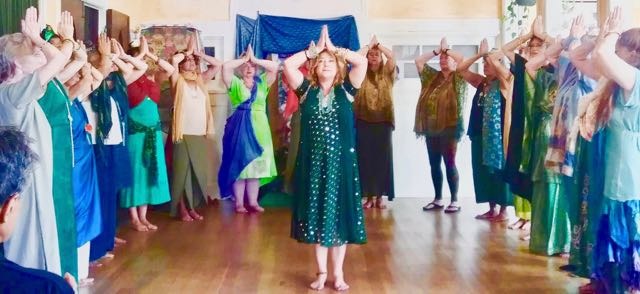 We ended the day with the dance of White Tara Of The Six Shields. The participants who did not know the dance sat in the center of our circle and we invited anyone from the audience to sit with them.
Many tears were cried as those of us who knew the dance sent our blessings into the circle and then out into the world.
I feel blessed to have been able to share these prayers of Tara. I am grateful for the group of woman who danced through the heat and limited time!!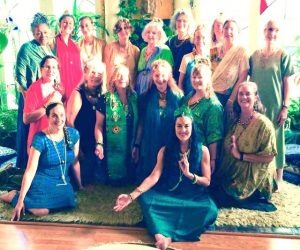 We had no idea that in a few short weeks we were to face blazing fires here in Northern California.
We dedicate our prayers and our dance to all those affected by the flooding, the hurricanes and the fires. We send the power of our prayers to all those affected by the wars. We send the power of our prayers to all those who continue to fight and pray for our waters to be cleansed and respected. We send the power of our prayers to our Mother Earth, that she may be fertile and at peace for the next generations to come.
May all the Elements be balanced on this Earth and within ourselves.
May we come together and know peace.
I dedicate this Mandala especially to Lama Kunga Rinpoche of Ewam Choden who was not able to be with us but as always he sent his special blessing and loving support. For many years he graced the Tara Dance Offerings in the Bay Area and the Tara Empowerments he give us after each offering have stayed in my heart.
Om Tare Tu Tare Ture Soha
Love, Pia