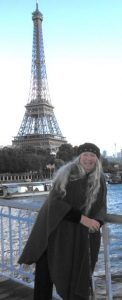 Almost a year ago I was asked, if I could go anywhere before I died where would I go. Bubbling up from my far distant childhood I realized, I would like to visit Fatima and Lourdes. That vision set in motion a series of events that ended in Myri and I teaching Tara throughout Europe this summer, and yes, visiting Fatima and Lourdes.
Portugal – Lisbon
We started our journey in Lisbon, Portugal. Vera, a woman well known for her own spiritual circle was intrigued with our work. A very close student of hers recommended us, and with great courage and faith she invited us to lead a weekend workshop in the South of Portugal. It was a wonderful experience.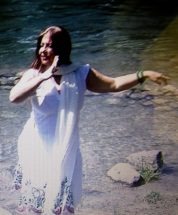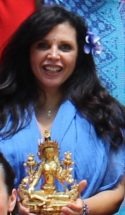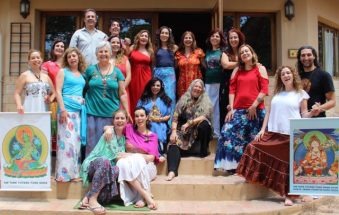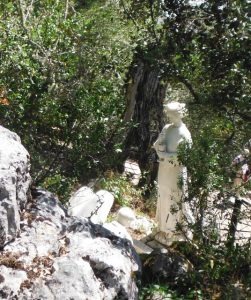 Portugal-Fatima
Fatima is very close to Lisbon so on our return from retreat we went directly to the shrine of Mary. Vera had a lovely student who opened her home to us so we could really soak in the atmosphere. The first day we visited the main cathedral. Mary and a heralding angel had appeared to three peasant children, giving her message of peace and redemption to the world. The second day we went to a shrine area in an olive forest. It was a sacred experience and I really understood deeply how we all need to be devoted to living love and peace.
France-Lourdes
Our next stop was to be a tiny, new retreat center in southern France, just a few hours from Lourdes. We decided to go Lourdes first and were so glad we did as the retreat center had some issues, cancelled the workshop and instead, paid for us to stay a few extra days in Lourdes. I am so grateful. It was a profound experience, bathing in the devotions of people from all over the world,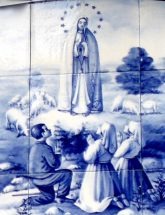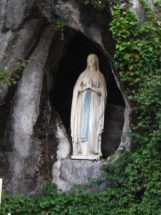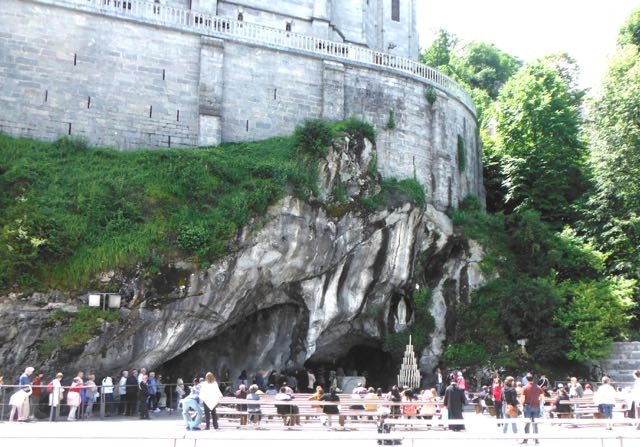 bathing in the sacred healing waters. There were so many signs that showed us our devotions to Tara and to Mary were the same. We experienced the ritual of complete immersion, feeling the tender love of Our Lady of Mercy.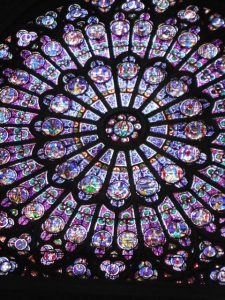 France-Paris
We stopped off in Paris for a few days, and had a wonderful time doing touristy things, like taking an elevator to the top of the Eiffel Tower, visiting the Mona Lisa at the Louvre, breathing in the power of the Chartres Cathedral!!!
Netherlands – Amsterdam
Esther Scheller met us at the airport and whisked us away to her mother's apartment. Esther had never had any experience of the Tara Dance and it was with so much joy that we gathered a lovely circle of dancers to introduce Tara and the Mandala. It was especially poignant for me to be in this beautiful city where I lived from 1969-1971.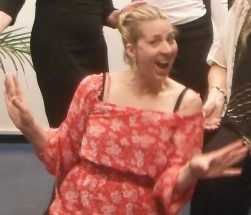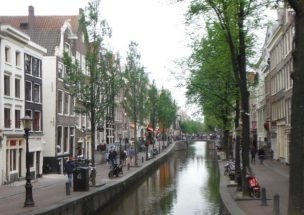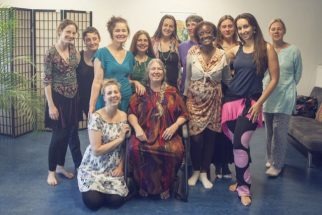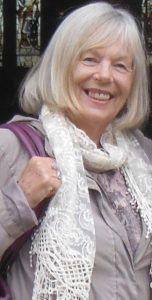 Scotland – Edinburgh
Sara Rashani Trevelyan was the gracious hostess for our time in this timeless city. She introduced us to the Rosslyn Chapel, inspiration for the provocative book The Da Vinci Code. The weekend workshop was held in an exquisite little center outside the city. We were joined by a feisty nun in the Tibetan tradition who loved the dance and was hoping to make it part of her center.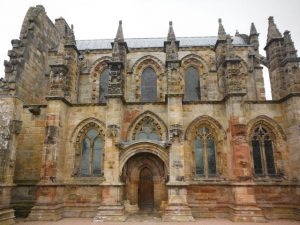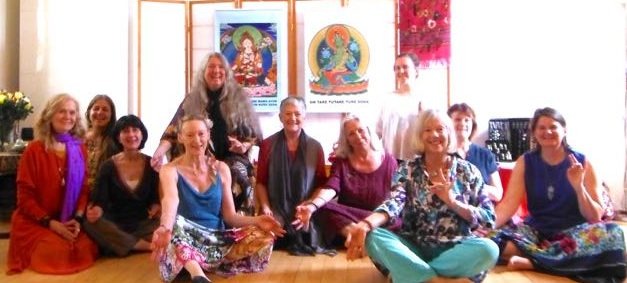 Russia – Perm
Perm is in the Ural mountains of Russia where a group of Tara dancers have been dancing Tara for eleven years. We were greeted with much enthusiasm and our ten days in the area were filled with joyful gatherings, explorations of the area and a powerful mandala of 22 dancers.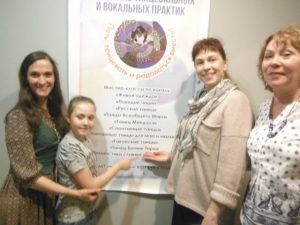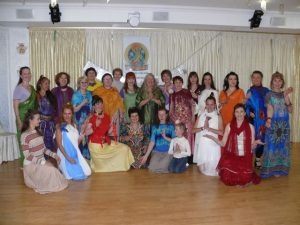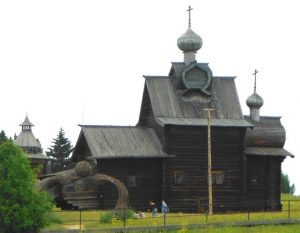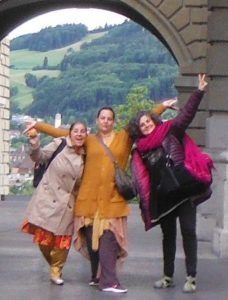 Switzerland – Bern
Navigating through Europe on a shoestring budget and the time constraints of being somewhere else every weekend had it's challenges. Getting from Perm to Bern we decided to land in Zurich and train to Bern. The reality of that was far more complicated than we could imagine. But truly magic happened to save us from our folly.
Renske, one of the workshop attendees in Amsterdam, decided she would drive to Zurich, pick us up at the airport and take us to Bern. At the same time we had serendipitously, the night before we flew into Zurich, connected with our old friend Marge from South of Brazil who had moved to
Zurich some years ago. She decided to meet us at the airport and take us all home with her to her sweet apartment on a crystal river. She joined our merry band and Renske drove all four of us to Bern. One of Marge's Zen mentors, Barbara Wegmueller, was so happy to see us she joined in dancing Tara with us, and then housed and fed us when we went exploring.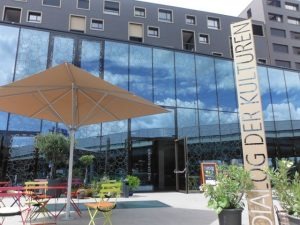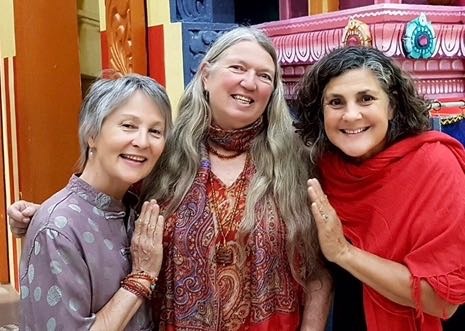 Hildi Thalman had arranged for us to give a workshop and performance at the House of Religions, a modern institution housing eight different religious groups. The director was retiring and she asked Myri and I to perform at a gathering held in her honor. We had a lovely day to ourselves exploring the beauty of this lovely city. We went to one of the lake parks and felt that we truly touched the heart of this remarkable country.
Greece – Mykonos, Santorini, Athens
Myri's one request, if we went to Europe, could we please spend some time in Greece. It was really just a hop from Switzerland and we had a lovely time resting and exploring the islands of Mykonos and Santorini.
We ended with a couple of days in Athens, paying homage to divine mother Athena and hopping on a plane to NY City.
New York – Brewster,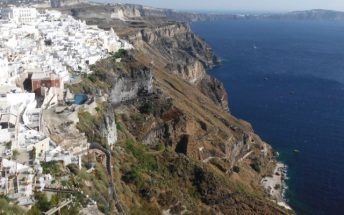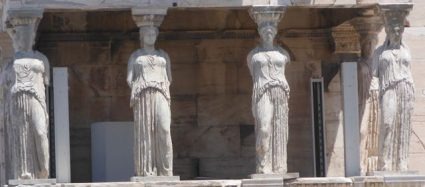 Woodstock, Hartford
Hope Jinishian had done an amazing job of organizing our time in the North East. Professor Neela Bhattacharya picked us up at JFK and whisked us off to her lovely home in Brewster. We did a rollicking evening of introducing Tara to her living room packed with friends.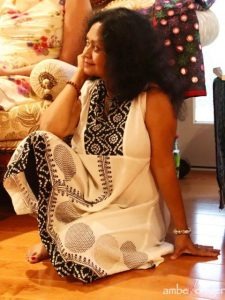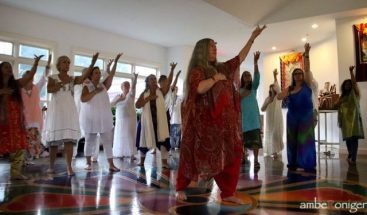 Hope drove us up to Woodstock where we immersed ourselves in teaching "Calling Tara From the Heart". We had the precious opportunity of dancing for Khenpo Karthar, who blessed me as the old Tara and Myri as the small Tara.
Then it was off to Malou's center in Hartford where she introduced us to a beautiful sadhana of Khenpo Tsustrim Gyamptso, with the idea that we could create a dance around the practice. So many blessings.
Washington – Orcas Island
We ended our tour in beautiful Orcas Island. Julia Sanders-Dobos arranged a workshop of "Calling Tara". It was the perfect way to end our epic tour.
I am so grateful for the unfolding joys and gifts of sharing this precious work. Meeting dancers from so many different cultures, traditions, ages, experience reinforced my sense of our international Tara Dhatu – Realm of the Enlightened Feminine.
It is not a place, it is a state of mind. It is universal. It is the essence of wisdom and compassion, alive and well in this wild and wonderful world. I pray that Tara's gifts continue to unfold in our lives and lead us deeper into the essence of our possibilities.
May All Beings We Well
May All Beings Be Happy
May All Beings Live in Peace
May All Beings Be Free.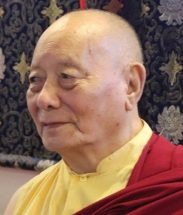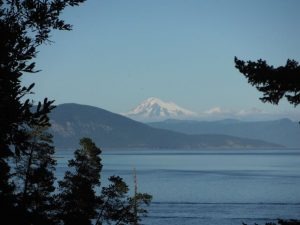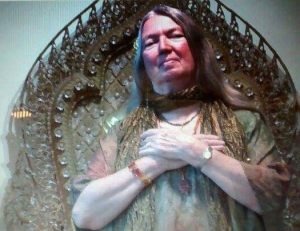 ****************************************