Adrianne LaBry Smith is a Tara Dhatu Level 3 Teacher. In 2005 she was inspired to join the Tara Dhatu Educational Program after participating in a Tara Mandala Weekend led by Prema and her niece, Jessica Zebrine. She is a close student of Khentrul Lodrö Thaye Rinpoche, who encourages her to share the dance of Tara. This November she offered her first public presentation of Tara's Mandala close to her home in an area of French Louisiana known as the Heart of Acadiana. She writes….
As I began the process of organizing the weekend I faced many obstacles, including finding the perfect venue. I kept receiving the message from various sources, "It is important that you offer this now, don't worry about how perfect it is. Just do it!" Fortunately, Michael Cooper, the owner of Community Acupuncture of Acadiana, graciously offered a space.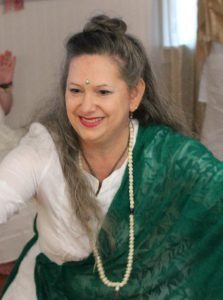 The Tara Mandala Offering is in alignment with his vision to impact the local community in positive ways. His business logo is a fully open lotus, which may not be of note in other areas of the country, but is definitely not a common sight on local business advertisements in South Louisiana! The setting was just right for our Mandala of nine.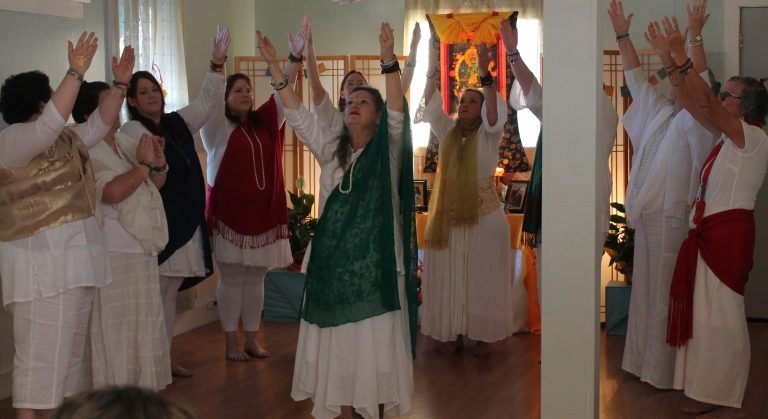 This tiny wooden building was built circa 1902, originally for use as Saul (Bernard's) Grocery Store. The Bernard family has ties to my French family of origin, the LaBry family. This past June I had set an intention to be of benefit in any way I could to clear negative karma and bring healing to my ancestry. Holding my ancestors in mind I was especially aware of the suffering experienced by and the suffering caused by my twice-great grandfather, Aristide LaBry and his family. A teacher and an artist like me, Aristide, was the first LaBry in my ancestral line on American soil, and in the mid 1800s lived less than a mile from this location.
The Bernard family members were inter-married with the LaBry family. I am dismayed to admit, these families participated in the atrocious enslavement of other human beings; a fact that I cannot erase from history, but I can strive to heal.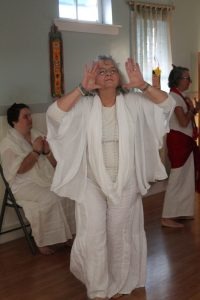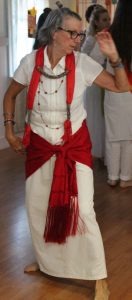 Dancing on this property that once belonged to a family connected to mine, I opened to reveal the negativity held within my own heart-mind, guiding the dancers to face our own obscurations, to purify our own emotions, and dancing to send out light to heal and balance this community and the world!
The effort exhibited by the dancers was truly inspiring. Because of the size of our Mandala, each of the participants had to dance at least two Tara praises and some had to dance three! It was a lot to expect of them, yet they faced the challenge with Invincible Courage, and Impeccable Virtue!
We also had the extra challenge of incorporating a tenth participant, Jennifer, who is visually impaired. Jennifer attends our monthly Tara Dance meetings, sitting as Tara in the center of the circle on a "lotus" (meditation cushion), holding her hands in Tara's gestures of supreme generosity and True Refuge. She signed up for the weekend knowing sh
e might not be able to dance in the Mandala, but wanted to be in the energy, experience the meditations, and receive teachings on Tara. The other workshop participants insisted they could work together to include Jennifer in the Mandala, and we made adjustments so she could dance as Complete Enlightenment.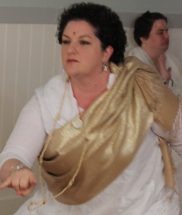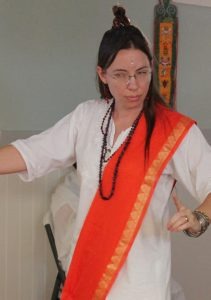 By the end of the first day of practice, there was an air of transformation. Arising as Worthy of Honor, each dancer demonstrated such willingness to address her own thoughts and emotions as they arose. The poisons of inadequacy, of fear and anxiety, of self-judgment, and the judgment of others were transmuted into Radiant Health and Auspicious Beauty.
By the time of the Mandala Offering on Sunday these All Victorious dancers had engaged in profound concentration with pure motivation for the benefit of all beings. In their offering of the Mandala they revealed Irresistible Truth, magnetizing the audience and drawing them into the dance. Though our audience was small, everyone joined in our closing Dances of Universal Peace, and Bliss and Joy was made manifest as the light of Wisdom, Compassion, and Power cascaded out from the heart of a lotus, beyond the walls of this small wooden building, from the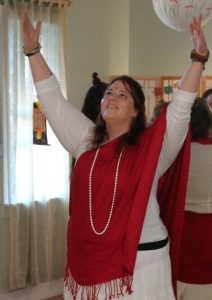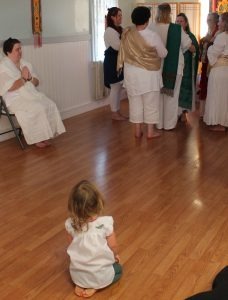 Heart of Acadiana
Om Tare
******************************************