Jacquelyn Sendak Zavaleta has been sharing the Dances of Tara with the support of her husband, Rigdzin, at their home town, Albany, CA for many years. They have also established a Tara Dance sangha in Virginia Beach, Virginia,  meeting every year at the Edgar Cayce Center (A.R.E.) at a local dharma center in Portsmouth, and at a Church of the Inner Light. When Covid struck, Virginia's restrictions prevented them from traveling.  They were able share teachings via email and began writing a book of their experiences and practices (From Karma to Dharma).  This is currently being edited and will be available soon. Recently they were able to return to Virginia to share Tara. Jacquelyn writes …

When I received word that my Dad was in hospice, I was grateful that travel to Virginia was now possible. We received our shots and went through the required quarantine to fly to Virginia. 

Goodness, how travel has changed! Boarding in Oakland was straight forward. At Check-in in San Diego, we were told passengers with connecting flights could not board Southwest Airline's computer system had crashed and our connecting flights were canceled. The scene was one of massive confusion. We were told to wait in a long line to talk to the ticket agent to see when we could fly out.  As we were approaching the ticket agent, we heard no flights until Thursday (it was a Monday).  My father was dying, we did not have extra time. 

I whipped out my prayer beads and invoked Goddess Tara's assistance, repeating Green Tara's mantra.  When Rigdzin arrived at the counter, the agent said " a flight just opened up for tomorrow."  A miracle with Tara's intervention.  We were given a wonderful room that night at the Sheraton Hotel and left the next day.

We were delayed at the Maryland airport for an hour and a half, waiting for a couple to land and transfer to our flight. The whole trip was a profound lesson in patience. We arrived at our Virginia hotel at 1:30 am.

The plans for an impromptu Tara dance event was being organized by one of our long time students and friend, Tara White, who had moved to South Carolina.  She had set things in motion for a Tara dance event, but things were in flux regarding details of where and when the event was to take place. It was not finalized until the night before.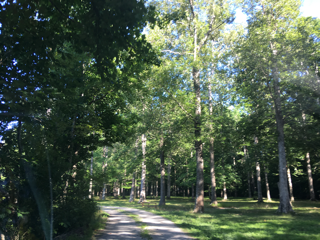 Following map quest we arrived at a house in the outskirts of Virginia Beach. It was a  rural area  where chickens laid blue eggs, snakes hid, and other nature beings frolicked in lush forest.  Our hosts/hostess Dolly and Don had a wonderful huge home where many Native Ceremonies, and other spiritual events were held. 

Dolly had no idea what we were going to do nor who Tara was.  Word of mouth was how everyone heard of this event so this brought another lesson in the impermanent nature of life and how spontaneous life after Covid had become.
 
I began by  sharing the background and experience of how my connection to Tara began and expanded.  Attendees were curious abut the Tara Dhatu pilgrimages we went on, offering the Tara Mandala dance in India, Japan, and Nepal.

The focus for this event was White Tara as some had heard of Her healing focus. Some attendees were experiencing illness themselves. Some had a loved one who needed Tara's healing energy.
 
Our host Don arrived late after coming directly from dental surgery to sit and receive our group healing energy.   Another golden opportunity presented itself when my computer froze and the external drive wouldn't work.  I had to depended on my singing, and cell phone recordings of refuge, bodichitta, the Tara mantra dance, and Tara the White music as I explained and led the movements.  As so many folks were new to Tara dance, the dharma and Tara, Rigdzin and I had a lot to cover.   

Rigdzin lead a meditation of becoming Tara and answered questions on the philosophy of Tibetan Buddhist dharma.  I taught the movements including the background and lineage of the Tara dances and how it has inspired people through out the world. 

Although things were thrown at us as challenges, through Tara's grace, and the willingness to be flexible everyone was happy to come together. In Tara the White, our circle rejoiced in the embrace, feeling the warmth of those dancing hands on our backs resting over our heart.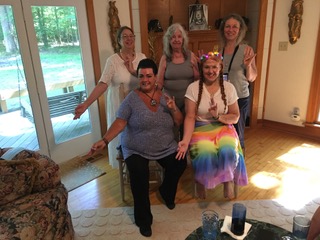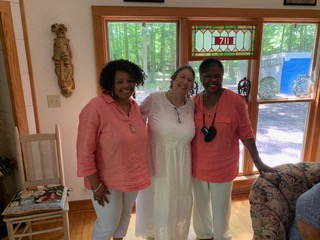 Tara's blessings continued as one of our Tara sangha helped set up a visit with Lama Khenpo Samdup and my Father.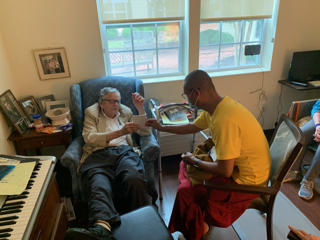 The Lama came to the care center and gave my Dad Buddhist teachings, transmissions for Tara and other  deities. He recited the 21 Praises of Tara and gave him many blessings.  He assured my Dad of peace and a good rebirth.  The Lama said due to his daughter's connection to Tara through the Tara dance, my Dad's karma was good.
Through out most of the time during this event, I was in tears. My father was receptive to the teachings, chants and transmissions. 

It also turned out that this Lama we had met years ago in San Francisco when Rigdzin picked him up at the airport and took him on a tour of the city.  So strong our dharma connections.  This trip to Virginia Beach resulted in wonderful blessings to my family and everyone involved.

Thank you, Tara.