For many years I have had the impulse to create masks of Tara for the dancers, and this aspiration has gone through several incarnations. One Retreat on Kauai the dancers created masks in paper mache …. it was an experience that was very inspiring for the dancers. Those masks adorn the Golden Lotus Studio on Kauai and are used during special occasions.
My vision finally came to fruition when Mekare Fiske went to Bali and through many magical connections had a set of masks and crowns made for Tara Dhatu. It was an important part of my vision for the Monlam that we offered in Brasilia this year.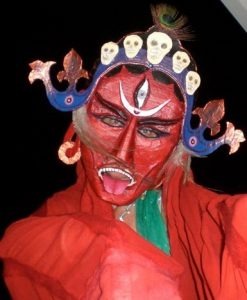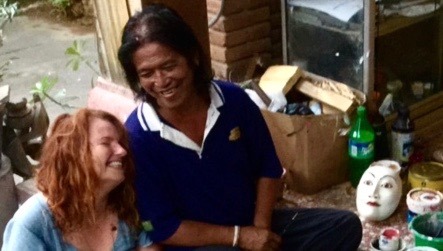 Noelle Faulkner created complimentary wigs and costumes and the masks had their debut at the festival. It was a very moving experience for everyone.
Mekare led the dancers into the mystery of the masks, sharing her vast and deep experience as a masked dancer. She organized each masked dancer to have a protector dressing her, dancing behind her, and leading her into and off of the performance area. This was an extremely powerful experience for the dancers.
As things developed it became obvious that there was not enough time forthe masked dancers to train in dancing in the mandala formation. Mekare and I developed a choreography that was workable for the situation and everyone was inspired.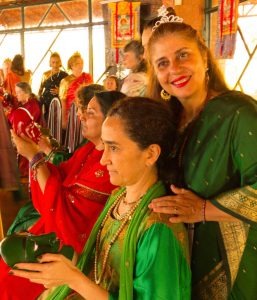 Myri felt very strongly that we should continue to try and manifest my vision of dancing in the Mandala formation in the masks. She approached Michele Trentin, one of our senior teachers who has a dance studio in Caxias, the far South of Brazil. This October, together with seven other senior teachers of Tara Dhatu South America, they accomplished this vision.
Myri writes …
Faith, Surrender and Trust
Mother Tara when I felt the wind caressing my face I heard your voice whispering in my ear "Do not fear. I am your Refuge!"

It is with great joy and gratitude that I can share this adventure of determination, faith, confidence, focus and love!
Having the opportunity to guide a group to dance the complete Mandala Dance of the 21 Praises of Tara with the masks we had made in Bali was a dream come true. When I offered to do this job I was open-hearted and sincere. I knew it would be incredibly challenging. I also knew it would be an ecstatic experience. It required my total surrender!
I worked hard with the text of the Mandala, so that it was tattooed on my body. I needed to be prepared to work with the ways I might need to adjust the movements to be able to guide the dancers to dance confidently. With our Tara masks there is limited peripheral vision, restricted air flow for breathing. All of this had to come into consideration.
We were fortunate to have a group of women who had already had experience in the complex movement of the mandala.. We had seven of our precious senior teachers; Michele, Angelis, Lia, Ruth, Edithe, Natália, Mariana and Jeniffer.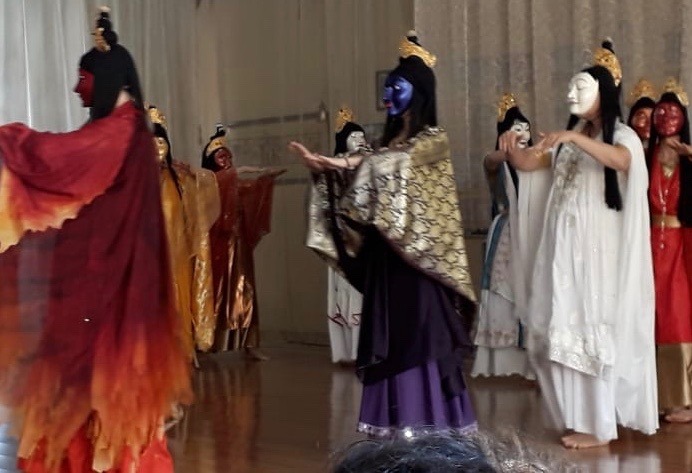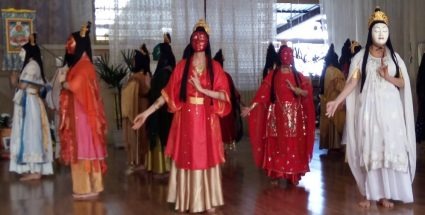 Michele offered her beautiful temple, her students, and her heartfelt experience in organizing workshops and events. I thought that I would not dance in the Mandala, wanting to direct from the outside. I invited Michele to be the Central Tara, giving her my full support.
I ended up having to dance a praise to take the place of a beautiful woman who had to step out. We were together, this group of incredible women turning the mandala of Divine Mother Tara's blessings. I have great gratitude to every dancer. We held hands and together created the circle !! Thank you for trusting me!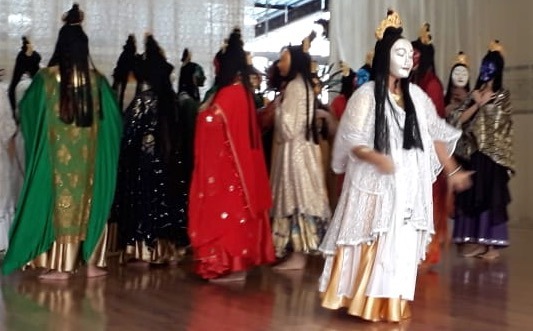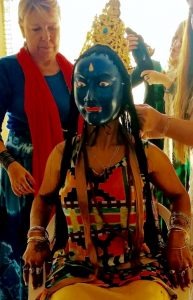 To open the group's connection with the masks I led a simple exercise from my long time association with studying the Kabala and moving with that orientation in masks.
I guided them to come to class without makeup and to look into a mirror at their own face with the clarity and certainty that they were walking on the most profound path. Then I asked them to open themselves to feel the mask as the face of Tara, to merge their face with the mask and feel they are Tara Herself, the two faces, inseparable! After putting on the mask I directed them to move. manifesting the quality they represented, getting familiar with the restrictions of the mask, dancing the body of the Goddess! The focus of this preparation was Faith and Surrender!
Prema has often said that Tara has her own agenda. I shared this message with the precious dancers, also quoting Prema … " we are in our spot!"
I offer my sincere gratitude to Tara who has helped us assemble favorable conditions to turn her amazing Mandala of Prayers!
I offer my gratitude to the precious teacher Prema for trust, guidance and support.
I offer my gratitude to dear Mekare for her excellent and inspiring work with the masks.
And I offer my thanks to the women who created the magic circle of this initiatory mandala with me.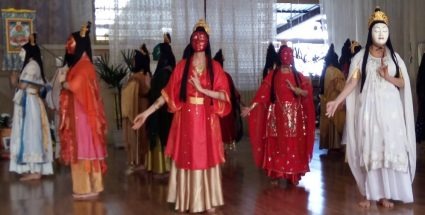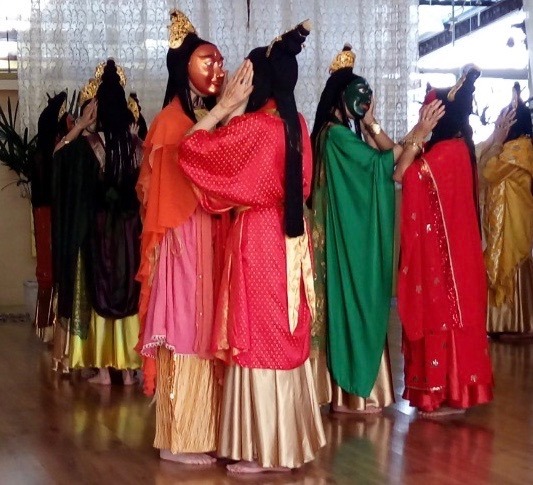 I sincerely wish that as the wheel of life keeps spinning I can continue to share this beautiful Tara Mandala with or without the masks. May I find circles of women willing to manifest the enlightened feminine, to awaken to their true nature for the benefit of all Beings!
I open my heart to the many dancers who will follow us, turning the Mandala of Tara, your face merging with the mask, Tara's face, your face, we are all united in the magic and wonder that is Tara!
I send my love and pray that we may always be connected in the Light that is Tara. Myri Dakini
It is with great joy that Michele tells us about the experience of Myri's guidance leading a group of women dancing Tara's Mandala in the masks in her beautiful Temple Studio, Rakaça Templo de Dança. Michele writes…
During the four days of training everything was very smooth, serene, despite impermanence playing it's tune. Tara was guiding us finding the perfect position for everyone.
Myri`s leadership was exceptional, precise and perfect! With her skills and experience the mandala developed smoothly. We were ready to dance the Mandala of the 21 Praises of Tara with the Masks!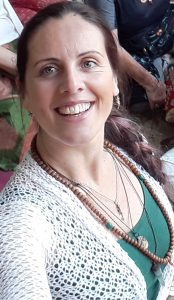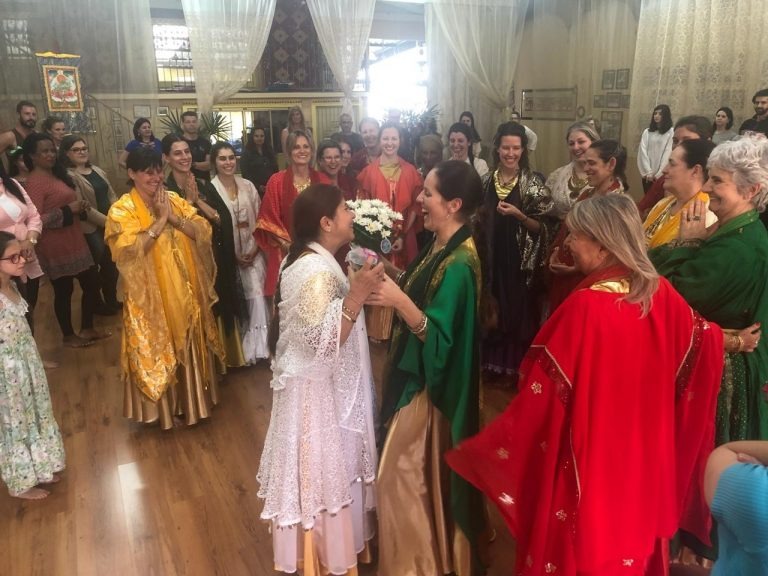 Myri asked me if I would be willing to take the position of Central Tara. She needed to be able to be outside of the mandala, directing everyone. I never imagined that I would be in the place of Central Tara. It was a gift but also an immense responsibility! My mind and heart were fully concentrated to make the mandala spin well.
I am so grateful to Myri for trusting me. It was a great empowerment. I was able to focus, learned so much about leading the mandala. I feel much more secure to work with the Mandala Dance of Tara in the future.
And many thanks to the brave, patient and courageous dancers who formed our mandala! Each one was amazing.
Filled with gratitude, Michele
In this video you can see some of the preliminary work, some close ups of the dancers in mask and costume and a bit of action with the audience dancing Om Ah Hum and Tashi Deleg with the performers.
http://www.youtube.com/watch?v=g5LLUCtrvVo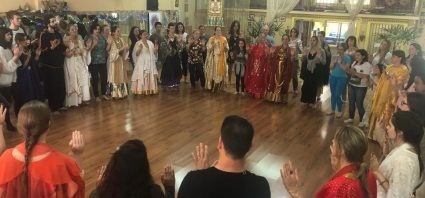 This video focuses on the birth of each Tara and a bit of Her dancing.
www.youtube.com/watch?v=4HH7PMQtWWY&feature=youtu.be
this imbedded video is the Mantra Dance