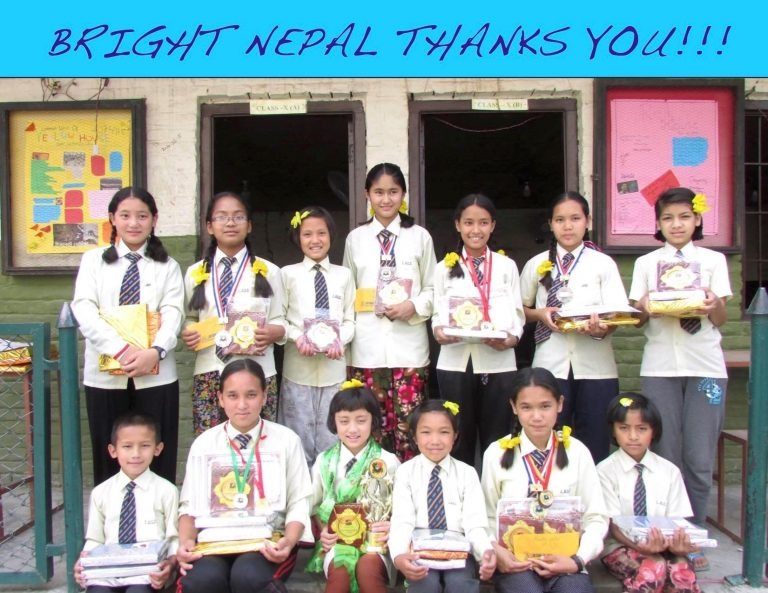 It's a New Year!
The Nepali school year transitions from one to the next around the middle of April every year. This year's transition was a big one for the children of Bright Nepal as they moved from Pabitra's private home/hostel to the school's hostel. Pabitra continues to manage their personal and financial affairs and is regularly found volunteering at the school these days as well.
In May of every year, the school has an award ceremony that is a reflection of their work during the previous school year. (The picture above shows the children with the gifts they received for their awards).  This year we had several Bright Nepal children at the top of their class.  AND the big news is that Bright Nepal's, Kincho Chomo Tamang who is 9 years old and in the 3rd grade, came in as the number one student in the entire school.  Kincho comes from an uneducated, impoverished farming family of 5 who are refugees from Tibet.   GO BRIGHT NEPAL TEAM!!! – and that means several of you who have donated to this program!!!  We couldn't do it without you- you do make a difference. DEEP GRATITUDE TO ALL OF YOU. . .  And if you want to really get a perspective of the difference you make and be even more inspired, please watch the short "Girl Effect" video below.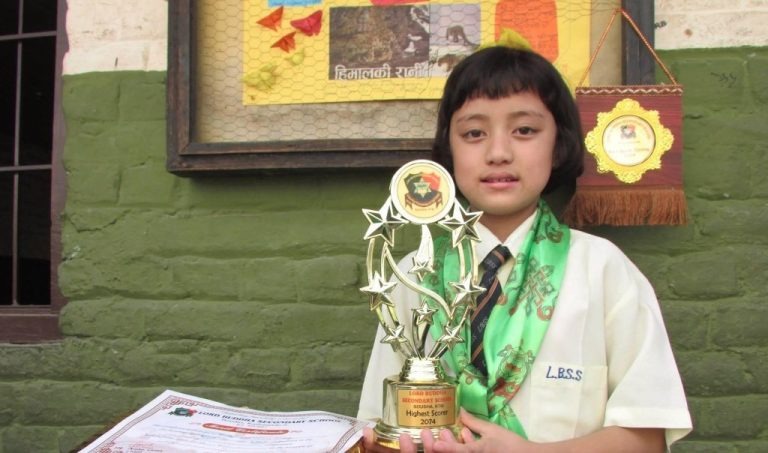 With the recent transition, came additional costs, bringing each students expenses to $80 a month. And so we have been in the process of bringing on additional godparents as sponsors to help make up the difference.  As an organization, Bright Nepal is completely run by volunteers which includes Pabitra on the ground with the children, Angela Bennett as the godparent program coordinator and Anahata Iradah, who not only assists with the godparent program, but also fundraisers to make up for the gaps (we don't always have the amount of godparents/sponsors we need and there are unexpected medical costs at times etc),  We are currently still in need of godparents/sponsors that can donate $40/month for the children below.  Please email Angela if you or anyone you know is interested:angelinATL99@gmail.com.  Blessings!