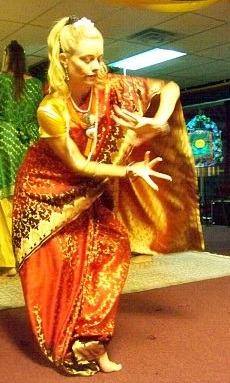 Elizabeth Breck dancing Tara of Irresistible Truth
Teresa Tara Noor is a long time Tara dancer and leader who lives in Tucson and has shared leadership with Elizabeth Breck in Tucson, AZ for many years. Below is a letter from her and a call to our global Tara Sangha for prayers. Prema offers the below prayer and says, "Please tell everyone to visualize Elizabeth surrounded by Tara's Loving Light."
*** (See the bottom of the page for the most up to date information.)***
Dear Ones:
For those who do not yet know, our dear Tara sister and teacher, Elizabeth Drolkar Breck has been missing since last Sunday [Sunday January 13, 2019].  We are all very concerned about her well-being and the police have issued a missing person's alert.  Here is a link to the news story which includes a phone number to call if you have any information or have seen her.
www.tucsonnewsnow.com/2019/01/18/tucson-high-teacher-goes-missing-pinal-county/
In the meantime, we are requesting prayers for her well-being and safe return to family and friends. We will still be meeting this Sunday as scheduled from 2 to 3:30 and will dedicate our practice to sending prayers and intention for Elizabeth's safety and well-being. I sincerely hope that she will be located and found safe and well before then, but in any event, we will dedicate our practice to healing, balance, and blessings for Elizabeth and her family.
In addition, Prema Dasara, Founder and Spiritual Director of Tara Dhatu (http://www.taradhatu.net/) is urging us to engage in the practice of White Tara and has written the beautiful prayer below: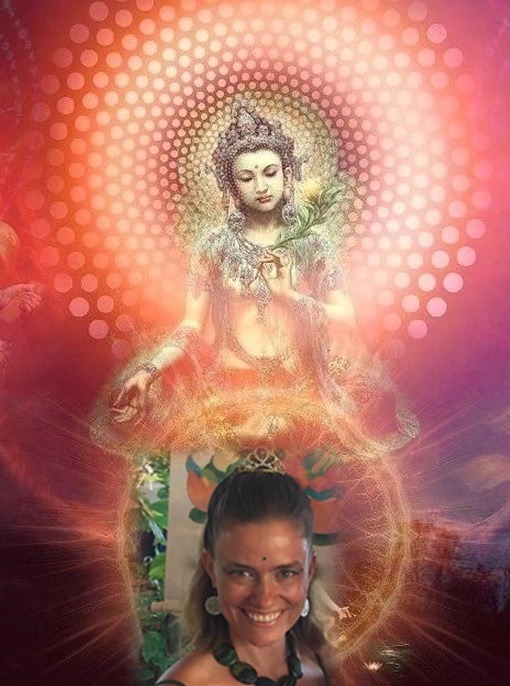 Beloved Mother Tara,
Our dear friend, sister, student, teacher Elizabeth Breck has gone missing and we are worried about her, Mother.
Please hear our prayer that she be returned to our loving arms. Keep her safe, Mother, and let our love be a beacon to her that she return to us safe and sound.
Tara, Mother, you bring peace to the worried heart. You surround us all with your protective light and help us to heal in this world of intense challenges. Elizabeth has turned to you most of her life, Mother with great faith and sincerity. So now we all turn to you, vibrating every element with your mantra, sending our wishes and prayers that this concern be quickly resolved.
We think of all the families who are missing dear ones, knowing the pain of the heart and as we pray for Elizabeth so we pray for all who suffer. May our love and light bring Elizabeth home and bring healing to all hearts.
Om Tare Tutare Mama Ayu Punye Jnana Pustim Kuru Soha
Great Mother Who Removes All Fears, Who Bestows Good fortune Give us Long Life, Wisdom, Merit, and Good Health
Here is a link to a beautiful version of  White Tara Mantra:
http://www.youtube.com/watch?v=Ukr6ohaShM0&fbclid=IwAR2s8l4Vi5kkgdsmWzUPRs6dV-Ewf2P-NUz77JKpS7-kSF1-4oX4P4nnbnE&app=desktop
Love, peace, and blessings to you all,
Teresa Tara Noor
THE TARAS GATHER ON BOTH COASTS
Weekend of March 30th 2019
The Vermont Tara community invited…
"We are coming together to honor and celebrate our Tara sister Elizabeth Breck at the Spring Equinox, with a Saturday night gathering to share our grief and praise for our Elizabeth and her many gifts – a time to share stories or images or anything we need to and just be together. That will be Saturday March 30th,5-9 pm at the upstairs space at The Plainfield Co-op. Then on Sunday, March 31st we will re-convene 1-5 to set the Mandala and dance the 21 Praises of Tara. Followed by the Offerings dance led by Ivy Garland , who is flying in for the weekend. Then we will dance White Tara and the beautiful prajnaparamita dance to close."
Location: The Plainfield Co-op 153 Main St Plainfield, VT 05667
For more information please visit the FaceBook event listing:
https://www.facebook.com/events/2522249694470945/
Suki, Elizabeth's dear friend and long time Tara Dhatu community member shares the following on this FaceBook group: "i would like to open up this space for people to share how they feel about Elizabeth and her disappearance and how we can come together to share those feelings and thoughts and praise and grief.. please feel free to share in here
"
AND…
In the California Bay Area Pia invited…
Join us Sunday the 31st from 3-6PM at Shelldance Orchid Gardens 2000 Coast Highway Pacifica, CA as we come together to honor our beloved Tara Sister Elizabeth who is still missing. We will dance the Mandala or the Qualities depending on the turnout and end the practice with White Tara Of The Six Shields. After we will have a pot luck. Come dance in the beauty of the Orchid Gardens. With all the crazy things going on in the world dancing together in this sacred way helps to lift our spirits and connect with each other.
Contact purpletara21@gmail.com Sugessted donation $21
For more information please visit the FaceBook event listing:
http://www.facebook.com/events/1264668807018620/?active_tab=about/
Pia, another dear Tara sister of Elizabeth and Tara leader Mandala leader shares the following on this FaceBook group:
"8 weeks ago today…Missing our missing one. In some ways it seems like if anyone would just disappear it would be Elizabeth…poof… gone… here for a minute gone in the next. A blink of a lifetime…lifeline…life shine…I continue to see her and worry about her…
Last time she was here she was on an 8 hour layover after her personal visit with His Holiness the Dalai Lama in India.
I picked her up at the airport brought her home and she took a very, very, very long shower. I made us lunch, as I had just gone to the farmers market. Rice noodles with veggies & cilantro ginger pesto.
She really helped me with some of the politics of dancing that I was having a really hard time with. She had many more years of experience and it was like Tara sent her to me for support. Hand in hand we went to see Prema Dasara who had just arrived in Pacifica…The timing of this was divine…Mother Tara stay with us until the end of time… here one minute gone the next…
I wore the cord of protection she gave me until it disintegrated… we continued our talks over the years about our practice and the politics of dancing…We went for a quick walk on the beach as our time was running out…
She went through a bag of clothes I had and she found so many things she had to wear 3 or 4 layers of clothes because she had no room in her luggage.
She arrived pretty thin in her beautiful and delicate dancers body and left with a "few extra pounds". We laughed a lot, we cried also…
One thing about the soul connection of our Tara Sisters is we have been together for many, many lifetimes…It is clear when we dance together, meet each other eye to eye, hand to hand, heart to heart… sometimes no words are ever spoken…our connection is surreal…in devotion…
So today 8 weeks you are still missing…here one minute and gone the next…I hope you dissolved into rainbow light in bliss…Or you are dancing in the sky beautiful Dakini…I pray no harm has come to you beautiful one…no pain or suffering…the not knowing is hard for us here…"The great way is not difficult for those who have no preferences"
Here one minute gone in the next…Om Tare Tu Tare Ture Soha…"
And… circles gathered all over the world including circles lead by Prema and Myri in Brasilia and Parvati, Amina, and Carey in Phoenix…
The Global Tara Dhatu sangha is offering prayers all over the world for the well being and safe return of our lost Tara sister and friend. Om Tare Tutare Mama Ayu Punye Jnana Pustim Kuru Soha
(We have heard no new news of her whereabouts. It has been months since she went missing near Tucson, Arizona where she lived. Please contact us if you do have any information.)

June 3, 2019 Note From Elizabeth's Brother
Posted on the GoFundMe page set up to raise money to help pay for the private investigator and pay her bills….
https://www.gofundme.com/elizabeth-breck?viewupdates=1&rcid=r01-155959728139-d1a7176a9d1e4508&utm_medium=email&utm_source=customer&utm_campaign=p_email%2B1137-update-supporters-v5bUpdate 9Posted by Christopher Breck46 mins ago
   Share Thanks again for following this situation. Since January we have been searching for Elizabeth after she went missing from Sierra Tucson's treatment program and was assumed to have departed on her own terms. We have no evidence to say what happened as she was never spotted on camera or by an individual outside the facility but we feel after two exhaustive searches of the grounds that the likelihood of her being on the grounds is limited. Our family with your generous donations and personal funds hired a private investigation team from the Tucson area Patriot Shield Investigators. The team consists primarily of ex or retired police officers with expertise in missing persons and homicide investigations, including a former head of search and rescue. In other words this team really knew what they were doing and followed up every lead. To date while we have uncovered a lot of possible pieces to outline Elizabeth's mental state and events that lead up to her seeking treatment we have no solid leads after her disappearance. While our PIs have exhausted all of the obvious leads there are still things that can be looked into to ensure no stone is left unturned and continue ground searches in a wider area. We want to thank everyone for your support and help during this trying time.
Finally I'd like to answer a few common questions that continue to come up.
1. Elizabeth has been reported as a missing person and entered as such in the national database that includes liaison with the FBI.
2. Elizabeth's DNA has been entered into the missing persons database so that any discovered remains can be ruled out as possible matches.
3. The police/law enforcement have been overall phenomenal and have done everything in their power to find out what happened.
4. We appreciate all volunteers that have expressed their desire to assist and continue to do so, however we currently do not require volunteers but if we do I will reach out.
5. We continue to liaison with local groups and organizations to search the areas and keep their eyes open.
Any further questions can be directed to me or our investigators, Patriot Shield.
Thanks again for all your support.Help spread the word!Christopher Beck