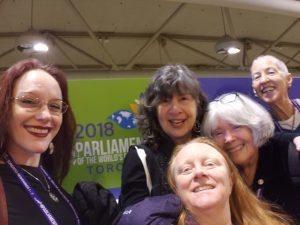 Parvati led a group of Tara Dancers in presenting a Tara Dance workshop at the Parliament Of World Religions in Toronto, Canada this November. She writes…
The Promise Of Inclusion
The Power Of Love
With the inspiration to join hands and hearts in commitment to justice and the well being of all – including Mother Earth Herself,
With the courage to say yes and step into the circle of the unknown and share our hopes, hurts, fears, dreams, truths, and highest aspirations,
With the innate awareness that there is an inherent unity bigger than each individual one, out of which all are born and unto whom they must return,
With eyes, ears, and hearts open to both the beauty and the horror,
With a desire to share in sacred space and practice both of and outside our own traditions,
With compassion and conviction, over 8,000 beloveds from over 80 countries joined together as religious leaders, musicians, dancers, scholars, students, and delegates of this world's faith traditions along with atheist friends.
The first Parliament Of World Religions was held in Chicago in 1893 and the 2018 Parliament was held the first weekend of November in Toronto. It was WONDERFUL and POTENT and… the Taras were there dancing!
In 2015 I attended my first Parliament in Salt Lake City and was blown away by the some 10,000 heart/minds who had come together, committed to inclusive social justice, planetary unity, and holistic well being for ALL beings. They had gathered together to share and connect, to give and receive information, to inspire and be inspired.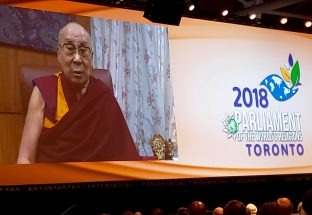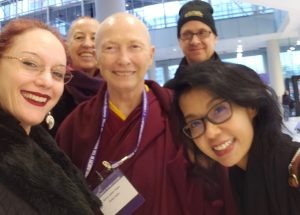 Imagine yourself in an airport full of radically inclusive people passionate about living the spiritual ideals of love, compassion, generosity, patience, forgiveness, and radically committed to being the change they want to see in the world. This was what we found at the Parliament and there was no question in my mind that our Tara Dance sangha needed to connect with this community. With the support of Phyllis Danu, Johanna Leseho (who valiantly agreed to do the leg work of actually submitting the proposal for our session), Shivadam, and Amina, I stepped up to offer an session of our 21 Praises of Tara.
We had only 90 minutes to share so we treated it much like a Friday night introduction of the fuller Mandala Dance Of The 21 Praises Of Tara retreat weekend. Opening with Motivation, Dancing Refuge and Bodhicitta, sharing a couple of stories about Tara's birth and a bit about our beloved Teacher and lineage, we concluded with the Dance of the 21 Qualities of Tara and the Mantra Dance.
We dove right in. The group that joined us was packed into the room and each person brought such a wonderful quality of presence to their enthusiastic participation. Some knew Tara and some were completely new to Tara but all were right there with us every step of the way.
There were over 40 sessions in the same time slot as our own and with so many rich offerings, including another one focused on the 21 Praises Of Tara, I was elated that we had such a rich group join us. It was a joy to share the session and the week with sister Taras Johanna Leseho, Jasmine Judith, Aimee Johnson, Jenny Malika Mish, and Phyllis Danu, as well as my own beloved wise and wonderful mother Amina who also led a powerful Tara session on dancing Tara as a contradiction to internalized disability oppression.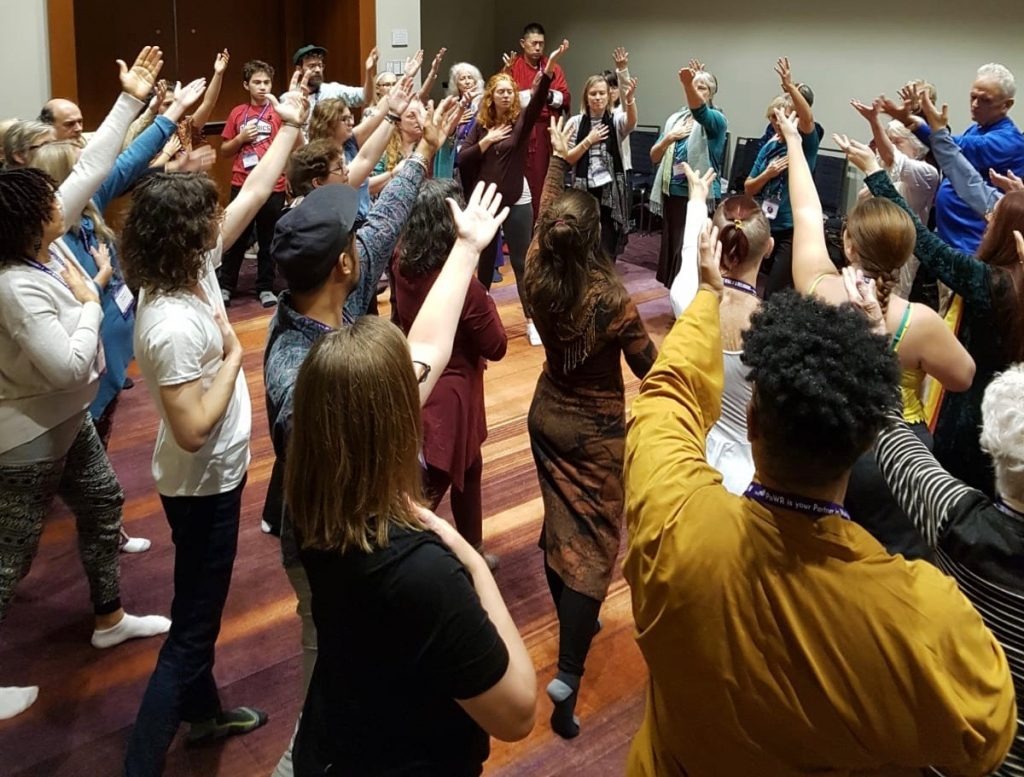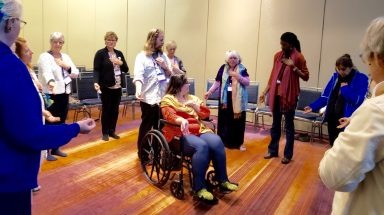 t was also beautiful to have the celestial musical support of my own divine minstrel Shivadam who played for both Amina's session and ours. Phyllis' s own beloved Habib also joined in with his drum for our main Tara session. As all the Tara leaders know, having live music is such a gift both energetically and in terms of logistical flexibility.
Both Shivadam and Habib had originally been scheduled to play with the Dances Of Universal Peace in their session but since that session was, by some cosmic joke, also scheduled in the same time slot, we felt very privileged to have them playing for us. And so our 3 concentric circles danced with great joy and exuberance… we did not get an official count but we guessed we had about 45 participants. Thank goodness for cordless mics!

Our session was just one of hundreds offered each day of the week and in every time slot there were at least another 5 or so workshops, each one we wanted to attend.
So many enlightening and empowering voices of wisdom from over 80 countries and every religion I can think of. While grabbing a quick bite to eat with several hundred other people at the free lungar lunch being offered by the generous Sikh community before going to set up for our session, Shivadam and I ran into a woman drinking tea who introduced herself and as we chatted we realized she was leading the other 21 Taras session!
She had planned to go on the 2001 pilgrimage but was one who felt she needed to stay home for family reasons… a small and beautiful world so full of magical connections. She showed me her newly published 21 Taras deck of cards, we laughed, and hugged, and went off to lead our sessions! While I had once worried about our sessions being offered at the same time I felt the magic was just multiplied. How perfect!
I cannot recommend this experience highly enough and will be sure to tell you all when they announce where and when the next Parliament will be held. Thank you to Prema for all the inspiration and support and for gifting us all with this precious and powerful practice.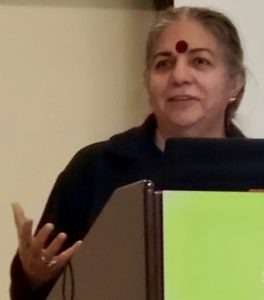 Om Tare! Om Ah Hung!