The Flowering
Of Divine Mother Tara
In the Andean Lands
Myri Dakini has been cultivating a group of young women in Chile for several years. This November she offered a five day retreat in Chile. Myri writes …
Through the loving spirit of One Being, we become aware of our responsibility to follow with joy and surrender the path of awakening.
We retreat, practicing Tara, meeting to strengthen and share our luminous nature.
It was with this dedication and vision that I accepted the invitation for Tara's third retreat in the Andean lands. To cross the mountains of the Andes is to feel the female presence of Pachamama, her mystery, her magic and welcome. This brings back the memory of the ancestry of a people dedicated to cultivating and honoring the Divine Mother.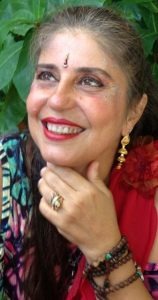 We shared four days full of magical moments, of harmony, beauty, color and joy … the expression of the gifts of femininity in splendor.
The group was mostly women. we had one male protector, who was welcomed with love by all.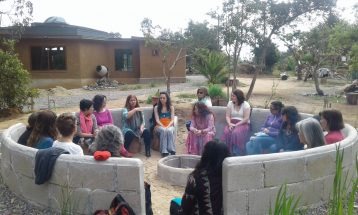 We opened the circle with fire, gathering in the round, all ready to receive the transmissions of light and nutrition for the mind heart.
This year's focus on this retreat was to learn in depth the Dance of Tara's Qualities, the movements, mudras, and dharma teachings. We started at 7:15 am and finished at 9:30 p.m. only stopping for meals. Everything and everyone was in their place and enjoyed every moment.
The evening session was very interesting. It was a time of personal sharing.
My first question to each dancer was what motivated them to participate in the retreat. Wow! It was incredible, very touching. Everyone shared with an open heart.
The last day of the retreat was a celebration of intense gratitude. We did our practice on the beach, facing the mighty pacific ocean. Looking at the infinite space of the brilliant blue sea we connected in spirit with our beloved Prema on her island in the midst of the great pacific ocean. We felt that there was no distance when we are all interconnected in the heart.
Back at the retreat center we circled around the fire to thank the invisible and protective beings of the place. We were so grateful forthis precious opportunity to be together in the way of the Dharma.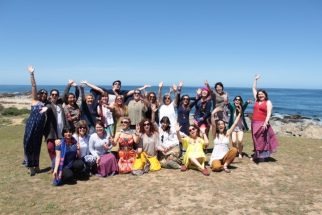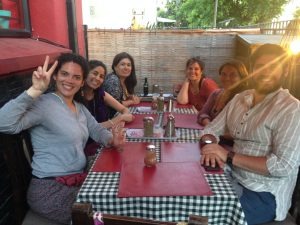 I specially want to thank the precious teachers of our Tara Dhatu Educational Program; Valentina, Maria Concepción, Atma and Karian, who organized and prepared the retreat. It was was built with wisdom, compassion, power and love …
From my heart great gratitude, Myri Dakini
**************************************************
Maria Concepción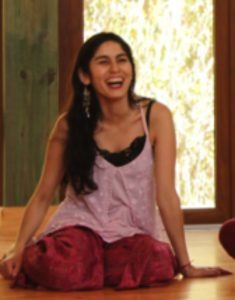 To begin to put into words all the beauty that happened in our last Tara Retreat would seem to be unfair, given the language limitations, to the reality and manifestation of this precious event.
It required a long preparation. A retreat carried out with so much love. Every retreat's detail and moment was thought and felt with great love.
At the beginning the four organizers faced decisions that meant a big challenge to us as an organization, we knew to read the signals that Mother Tara was sending every moment, regarding a leap of faith and to trust that everything would be given in order to manifest this retreat. Praying deeply, receiving profound inspiration, surrendering at Her service , the retreat was manifested and raised with great splendor.
Personally I felt this retreat was a great success, intensely enjoyed by each of the participants, who surrendered themselves to live the experience of our 3rd Tara Retreat in Chile.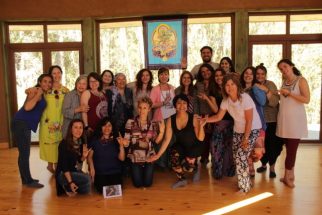 I was especially pleased to note the harmony existing throughout the retreat. It was a friendly ambience between all the participants. We enjoyed the harmony in the center with its natural beauty that was in tune with the work we were doing. The two women owners of Las Coincidencias (http://www.lascoincidencias.cl/) were so helpful, accommodating, caring and receptive to us and our work. It was a convergence of auspicious factors that made this retreat an unforgettable experience, a memory treasured with love in our lives.
With deep gratitude to Great Mother Tara for manifesting herself inspiring us, her organizers, with so much beauty, love, compassion, generosity, wisdom and perfection.
Profound gratitude to our Teacher Myri Dakini, who shared with so much Joy, and trust in us. Every time she has come to us in Chile she shares her knowledge, with so much generosity, seeding the wisdom and awakening seeds in every participant. Inmense gratitude and admiration to our Teacher Prema Dasara for her amazing work all of these years creating the beautifull Dances of Tara for our awakening path.
Feeling ultimately, a heartfeelt call and vocation to keep walking this precious path of spiritual growth, I dedícate myself for the benefit of all beings. SOHA.
Atma
Being part of the Organization group taught me many things on a personal level as well as the collective level. Together we learned from many challenges.
In the personal level I could see my relationship with abundance; how my mind passes from very positive to negative, how I create expectations, and so on.
As the Organization group we lived the experience in a closer and more democratic way of working, trusting each other and everybody taking her place, everyone trusting in the other's work.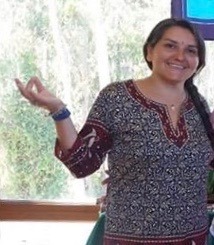 The energy of this retreat was different as I can see the community in Chile becoming more cohesive.
I lived the retreat intimately. I had no tension of organizing since we could foresee situations and harmonically organized with others, The work was shared so no stress. I was able to connect with the retreat experience and enjoy the dances, dive into the meditational practices.
I am still digesting the experience I am in a life cycle of many changes, self-reflexions of what my path has been, and what I want it to be.
In that way the retreat was a space to integrate my soul´s restlessness.
I am so thankful for the experience, both individual and collective and grateful for Myri's trust and dedication.
Karina
I decided to join the organizational team when I felt my fellow's enthusiasm, I wanted to give them support and cheer them on in this adventure of organizing the retreat, encouraging them, and being by their side on what I could, I don't know much about technologies and computers, but they could count on me if they needed an opinion to make decisions concerning the venue's choice or visiting different places, feeling the place's energy and cheer them up on all that would be possible.
The economic part was complex, but we encouraged each other, generating a conviction and trusting one another. In every meeting 'ideas and inspiration rain' were flowing. It was an opportunity for lots of learning and personal and collective work.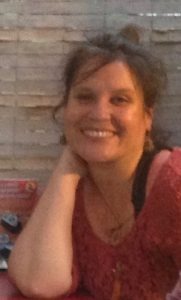 With confidence, the most auspicious situations took place. I was alert to the signals that life and the environment were sending me. When we visited the venue 'Las Coincidencias', to me it was key to see a hummingbird over a bush full of flowers… I felt that was the signal to choose that place, and then, when we saw that beautiful spiral room, I knew it was perfect for dancing.
And then we had to spread the word, inspiring others, transmitting enthusiasm for them to come to the retreat. Everything flowed harmoniously. Little by little people were signing up and we saw with great surprise new people who had never danced before were excited about participating. This was a great present and joy.
My friends have done a great and enormous work. I try to be always positive and optimist in all situations of life, so I felt that the people coming to the retreat would be the right ones, regardless the number of participants. I was thinking: my wonderful Tara is in their hearts, and the right ones would be inspired to participate.
Near to the retreat's date, on October 8th, a family crisis arose. My granddaughter Rafita, only 2 months old was diagnosed by the doctors who gave no chance for her to survive. This has been an 'earthquake' in the life of my family. At the time I devoted myself completely to my son, to be present, to support him, be by his side and encourage him on everything. I took refuge in the mantras and danced with all my heart, connecting from the purest place of my soul, asking for strength and guidance for this sad and painful time.
I decided to fully live day by day, in the present, enjoying and feeling gratitude for every second that we were able to have our precious Rafaela with us. I cheered my family, demonstrating that was the way to be with her, encouraging her, with joy, support, strength and much love, filling her with sweetness with all our soul.
I became more aware of the impermanence of life, living every minute the best way possible. It was complex to decide whether I would go or not to the retreat. But things got stabilized with the seriousness and I felt the compromise to be in support of all this great organization work. I went with the intention to come back (to my city) in any moment if something happened to my Rafita. I am so thankful that everything got even more stabilized. I realized I would a be bigger support to my family by being in the retreat. I danced connected to my family. It was very beautiful all the support and love I received from everyone. It was a joy and strengthened me to see how everything flowed wonderfully in the retreat and to see how every participant was enjoying and connected to each dance. It was something really formidable, moving, and inspiring.
I thank with all my heart every smile, each word of encouragement, and the support on my beautiful Myri, her company, and advice. I am very grateful. I came back strengthened to re-join my day-to-day of life and keep living this experience with so much love for my family.
This 2018 retreat has left us many teachings and an even deeper connection to our beloved Tara.