Adrianne LaBry Smith is a Level 3 Tara Dhatu teacher, living in Lafayette, Louisiana and on her family retreat land next to the Katog Rit'hröd Mountain Retreat Center in the Ozark mountains of Arkansas. The founder of the Center is Khentrul Lodrö Thayé Rinpoche. Adrianne writes…
On October 19, 2019, in a valley amidst the Ozark Mountains, twenty-seven courageous and inspired individuals participated in a spontaneous dance of Tara's Twenty-one Qualities.
It was day fourteen of the 15th Annual Pandey Norbu Shedra held in the new temple of Katog Rit'hröd Mountain Retreat Center, where attendees received in-depth teachings on the wisdom of true nature given by Khentrul Lodrö Thayé Rinpoche.
It is not uncommon for the shedra to include an hour or two of karma yoga each day, however, this year's shedra (Tibetan for "school" or "study") was extra-ordinary. Several hours a day we were all engaged in preparation for consecrating nearly 200 deity statues and stupas, among them eight large stupas, a larger-than-life-sized Guru Rinpoche, a life-sized Kuan Yin, and twenty-one small golden Taras.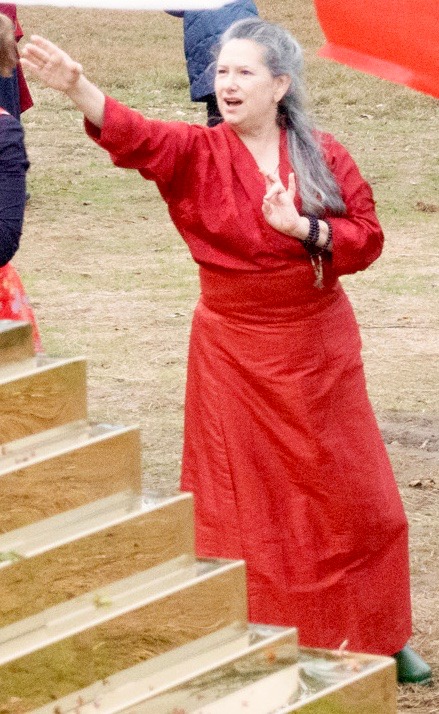 All was readied for consecration – statues cleaned and measured, sacred substances collected and wrapped in bundles, pages of mantra rolled and tied, and all arranged beautifully as offerings. We continuously chanted mantra in Tibetan and Sanskrit, including these words of Shakyamuni Buddha, "Do no harm whatsoever. Fully perfect all virtue. Completely tame your mind. This is the teaching of the Buddha."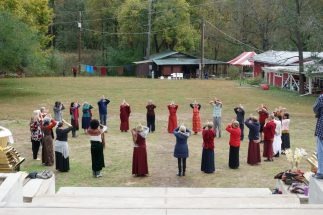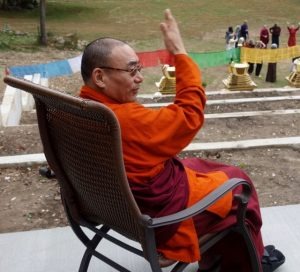 Most of the statues and stupas are to be housed on site, within and on the grounds adjacent to the new Katog temple. This new temple is still in the process of becoming. Many sangha members have devoted long hours to its design, construction, and beautification.
When talk of building the temple began, one of the sangha members, Andy Chapman, had already commenced formal study of the Tibetan art of thangka painting at the Sechen Institute of Traditional Tibetan Art in Kathmandu, Nepal. Throughout this past year, I have had the honor of working under his direction and alongside several dedicated sangha members and artists.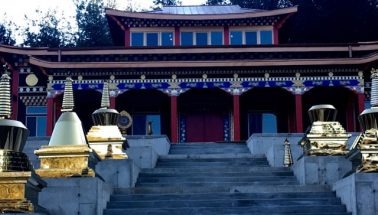 Some of the paintings have been done on panels in a working studio space, others directly on the walls of the temple while on scaffolding. There are architectural details being created by hand in clay and cast in hydro-stone, which will then be painted and attached to columns. Motifs include offering clouds, dragons holding wish-fulfilling jewels, dharma wheels, garlands of gems, and lotus buds and blossoms. Yet to come: murals of deities and offering goddesses. All of the details have symbolic meaning and are meant to inspire the practice of taming the mind, obtaining the state of freedom from suffering and developing our innate essence of wisdom and compassion.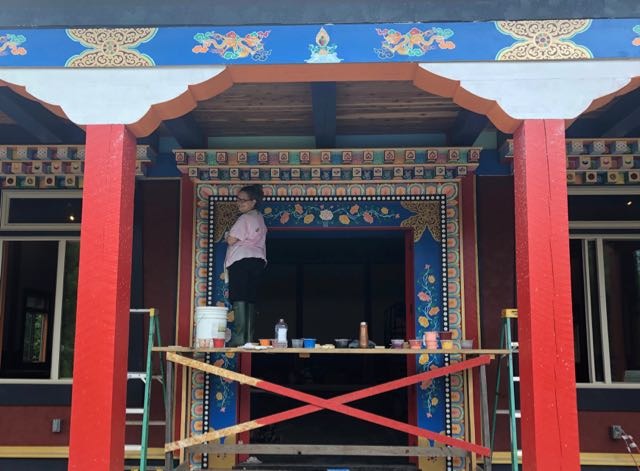 This summer, I spent nearly three months painting dharma motifs almost every day, and while engaged in this right action, I practiced diligence and contemplation, working with my mind to ensure that I was also engaged in right thought. Inspired by Andy, a few of us set up a shrine in the work space and began each session with prayers of Refuge and Bodhicitta, and ended with aspiration prayers and dedication of merit.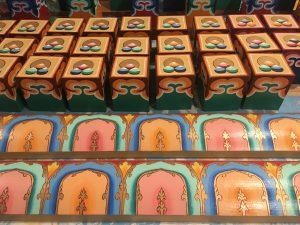 Twice a week, in the evening, I led Tara dance in the cave temple. The space is small, unpretentious and seldom used for formal gatherings. It is often cool and damp as a result of rainwater seeping through the limestone rock and trickling onto the floor. But it has an air of magic, mystery, and power.
The first empowerments in this cave temple were Green Tara and Thröma, offered on the same day by H. H. Getse Rinpoche in 2010. A stone Buddha approximately three feet high sits on a make-shift shrine. A few years ago while Khentrul Rinpoche was on retreat there, an udumbara flower spontaneously appeared at the heart of the Buddha.
There is a timeless quality in this cave that enhances the practice, and we were happy to meet there to dance. Our evenings usually included Motivation, Refuge & Bodhicitta, Tara's Qualities, Eight Precious Offerings, and White Tara of the 6 Shields, and a couple of evenings Shantideva's Prayer, and on occasion Calling Tara from the Heart .
I continue to make aspirations to lead the dances of Tara here in the Ozarks of Arkansas. The retreat land is remote, in mountainous country, and often one is barred from entry or exit due to inclement weather. Housing is limited, and the staff is small, volunteering countless hours of hard work to accommodate the hundred-plus attendees of shedra.
With so many people in attendance and the constraints of time and space due to the statue consecrations, it seemed impossible to think there would be space and time to offer dances. Daily Khentrul Rinpoche began teachings by encouraging us to generate the intention of little desire and great contentment. Putting this directive into practice, I continually let go and immersed myself in listening to dharma teachings, contemplating, meditating for the two weeks of shedra. And lo and behold, on the day of the statue consecration, Rinpoche requested that we offer Tara dance!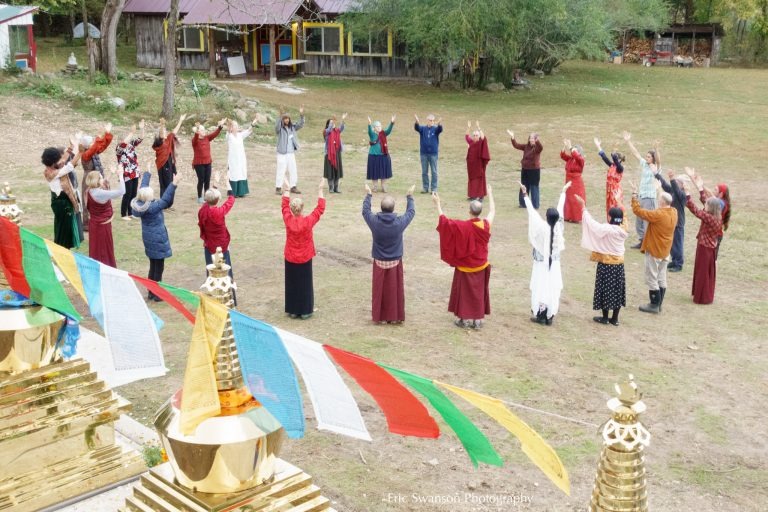 Following the consecration ceremony we gathered to dance beside the newly consecrated stupas, symbols of enlightened mind. They had been carefully filled with sacred substances representing the qualities and activities of the Enlightened Ones. With Rinpoche and on-lookers seated on the steps of the new temple, we danced our offering at their feet. It was a joyous culmination of our days of intense study and effort, dedicating our merit and sending out the light of Wisdom and Compassion to benefit all.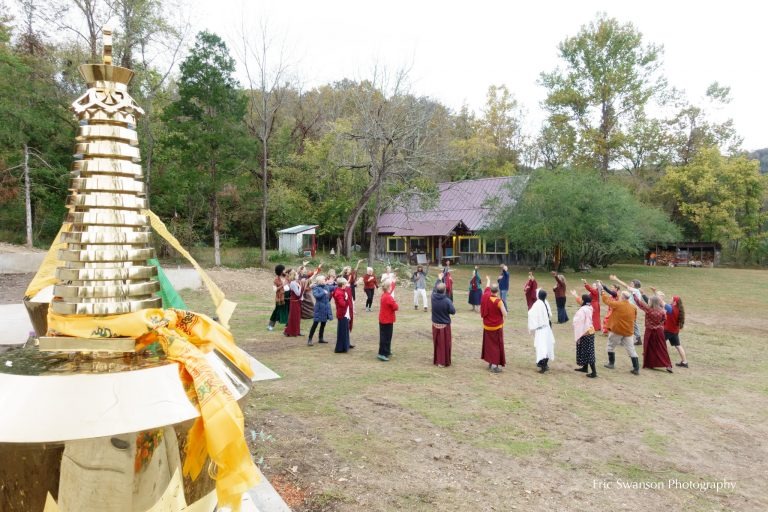 Photos by
Eric Swanson Photography