Mekare Fiske has midwifed through her capable hands and radiant heart the completion of a long held aspiration of Tara Dhatu – masks of the 22 Taras of our dancing mandala to be revealed in their glory at the Festival of Prayer in Brasilia, May 2018.
It has been a long and winding road to this birthing. In 1987 Situ Rinpoche told me that there would be a festival based on the Mandala Dance of the 21 Praises of Tara. For thirteen years on Maui we developed the Festival of the Great Mother, dancing Tara and including the Maui community in presenting multicultural expressions of music, dance and drama. As my teaching travels expanded it became more difficult to manifest this festival. But the vision of it persisted, and expanded. I imagined four mandalas of dancers, one of them masked.
Unbeknownst to me, one of my senior students, Mekare, was a mask dancer. And she did not know of my vision of masks for Tara. In 2007, kismet happened. Mekare had been blending her practices of deity yoga with mask dancing, and was inspired to offer a solo deity mask dance at Tara Camp as a surprise gift to us all. Thus, through the magic of Tara, many dreams and talents and life experiences wove together and catalyzed a surge of energy for Tara's mask project.
Knowing nothing about dancing in a mask, or making a mask, I turned to different people to help me develop the vision. Janice Walrafen led a workshop at one of our Kauai camps, creating masks in paper mache. Several of my other students also experimented with dancing in masks. I consulted with artists and mask makers and could never quite hit the note my internal guide was asking for. I was directed to a magnificent artist but she worked in leather. For Tara, that was not an option.  I kept praying and seeking. And then one day I realized, the answer was Mekare.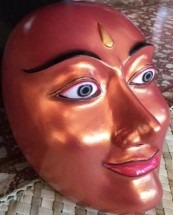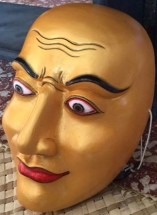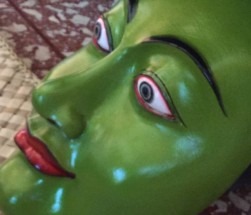 Last year she went to Bali to commission the carving of the masks, met Oka, the mask maker perfect for the task, and encountered many wonderful adventures. The making of deity masks requires great talent and great dedication. The masks could not be completed in just a few months, so plans were made for her to return again this year. Following her own inner guidance, Mekare  connected with an artist friend in her home town and used her studio to explore mixing colors in order to assemble the kinds of paints needed to bring out the exceptional colors necessary to complete the project.  This July she returned to Bali with the paints she had chosen, and she and Oka completed the masks. Here is her story…..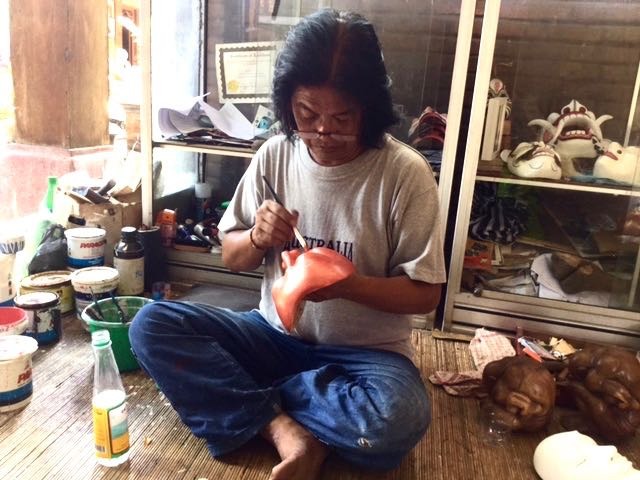 "We are in process of painting 9 of the masks for the Buddha Tara. My heart is overflowing with joy. I sit with Oka on his carving mat, surrounded by masks and paints, (and on occasion his 6 year old grandson and a bit older comic mask actor from Australia )
We put layers and layers of thin coats of color onto the beautiful faces, punctuated by drying times and fine sanding, then more layers of color. The breeze is cool and we are having such fun mixing colors and speaking of eye and mouth expressions and the nature of the art of the Mask. I love the feel of my soft brush moving over the exquisite smooth curves of Tara's face.
reative Wisdom. Swift Protection. The Remover of Sorrow. Worthy of Honor. Impeccable Virtue. The Destroyer of Attachment. Triumphant Joy. I chant their Praises in a soft whisper as I paint.
And the memories flood in. Dancing Creative Wisdom in Atlanta, The Destroyer of Attachment in Vermont, Triumphant Joy in Santa Fe, Irresistible Truth in India and Nepal ….. And on and on and on. A swirl of all the Tara's and all the travels and all the sisters pour through my mind and heart.
And my time in Bali 22 years ago, that magic time when I first fell into the magic well of mask dancing and swam so deep it changed me forever. And that very moment happened only yards from here, in this same family compound in Mas. The Remover of Sorrow magic and wonder of life brings tears and a boundless grin!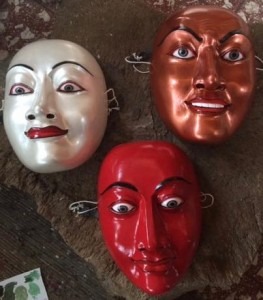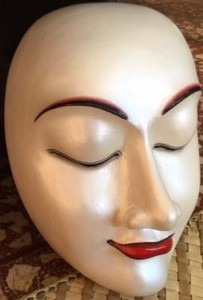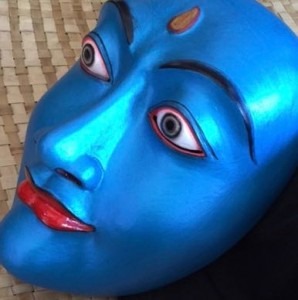 But most importantly now in this moment, is Tara. It is She who came to me in dreams in my early twenties. Powerful dreams. Awakening dreams. It is She who led me to China Galland who taught me Tara's mantra and my first introduction to Tibetan Buddhism (in this life), and to Lama Tsultrim Allione who profoundly inspired my young woman's heart awakening in this world.
And later to beloved Prema Dasara and the Mandala Dance of the 21 Praises of Tara, to His Holiness the Dalai Lama, to the nun in Paris, to the artist in Ojo Caliente, to the magic of Findhorn and the woman with the seed pearls, to Lisa Bach and Karma Moffet in San Francisco, to the sadhu in Kathmandu, to the canyon in the Jemez, etc etc etc etc……
And now back to beloved Bali.
Most of all, I am thankful for Tara's loving guidance inward, to the wisdom, beauty, strength, and compassion within my own heart, the journey within, the journey we all make "alone", the most important journey of all…..
I dedicate this moment of gratitude, awe, and love to the wisdom, beauty, strength, compassion, and courage within YOUR heart. Yours.
And the hearts of All Beings, without exception….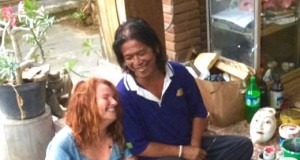 Three weeks later Mekare wrote….
Hello Beloveds…….I am in tears of joy and awe and love. A month ago when I realized I needed to stay longer than planned, we all looked at the calendar and saw that the Full Moon Eclipse was on the holy day of Penampahan Kuningan AND my birthday. Oka said we would all do our best to finish all the masks for my birthday.
It is very important to do a ceremony on completion of deity masks. Not to wait. They are very sacred and need honor and respect. Last year we all agreed that whenever the masks were finished we would have a small potent private ceremony for the birthing of the masks. Mask dancers do many ceremonies for their masks. Each time is a purification and a blessing and a re-charge. These amazing masks will be blessed in many ways …. Balinese, Tibetan, and more, I have a feeling.
We set our intentions for the completion of the masks and a ceremony on Full Moon/Eclipse/Kuningan/my Birthday.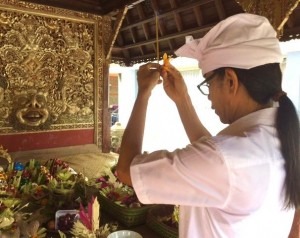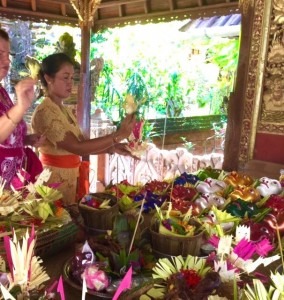 It was an extraordinary work, requiring much focus and prayer and dedication. Tara in every cell of our beings. All forces Seen and Unseen strongly present. Oka and I both fell "ill" over the course of creation. So much energy! Many many mantras chanted. We had huge support from our families and friends here in Bali and from all of you … in Arizona and Maui and beyond…..and also my Bee sisters in England doing a womb weave of energy for creation.
The masks being complete is a miracle. And to have a purification and blessing on a Full Moon Kuningan is such an extraordinary blessing that it is beyond words.
Kuningan is a very special Balinese holy day. It is a time when the Gods and Goddesses descend to earth, accompanied by wise ancestor spirits, bringing infinite blessings for all people and the entire universe. There are ceremonies of prayer and meditation for humanity's harmony, balance, and prosperity. It is truly a Golden time! "Kuning" itself means golden yellow.
To have our beautiful masks born and blessed during this time is extremely auspicious.
There really are no words for how all of this evolved and happened.
The masks are all perfect. An Unseen Hand had Her way with these masks to be in sizes for all women and all shapes. My friend Putra said to me yesterday , "What you and Oka have done is very special. Very unusual and very special. Tara is so happy you have brought Her faces into the world".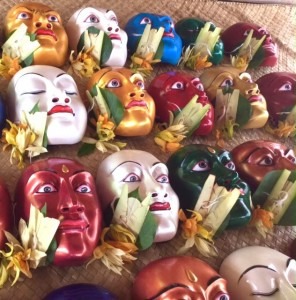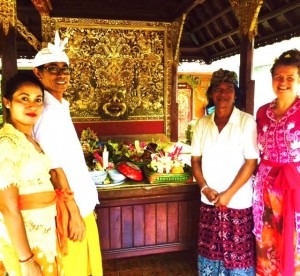 Many years ago I made a prayer to go deeper and deeper into what creation really truly is in this lifetime. The step-down of spirit into matter. The extraordinary process by which everyone and everything takes form. This journey with the masks has been another surge of learning for me in this realm and I am so thankful. I understand more now why Oka could not do the masks without me here, I understand more now about the relationship between Spirit and human consciousness in bringing forth creation, and I understand more than ever what Trust truly is….
And all on my birthday. Wow!!!
After the beyond beautiful little ceremony for the masks, I decided to go alone to Tirta Empul, the water temple, for more birthday blessings and to pray. 22 years ago, the waters of Tirta Empul had a huge effect on me. I wanted to return on this special day.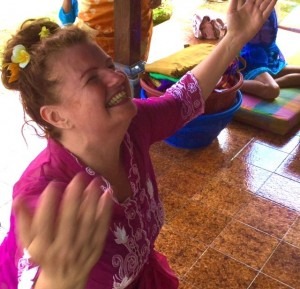 I went down back roads through rice fields and little villages. Women were hanging the woven coconut leaf shields on their homes for Kuningan. The air was cool. And the waters were crystal clear and full of shakti, mana, ormus, power, and love.
I am reborn yet again.
Sending love and gratitude and cups of gold to all of you!!!
Om Tare Tutare Ture Soha
Mekare